What kind of car enthusiast doesn't love modding their headlights? It's the perfect way to show your personality and make your car stand out from the rest. But, with all of the different LED bulb options on the market, it can be tough to decide which is right for you.
Here, we'll take a look at the best 9006 LED bulbs available and help you decide which is right for you.
What To Consider Before Buying A Headlight For Your Car?
You can't just go out and get a headlight for your car. There are multiple things that you need to make sure you know before you get one. Let's get into them now.
Type of light
You can get a halogen light which is the more traditional choice since it has been around for some time at this point. Or, you could go for the newer LED variants.
This is completely dependent on your needs, how long you are willing to keep the headlights and what your budget is. But nowadays, LED is the more popular choice.
The Brightness Of The Light
You have to know what the manufacturer's rating is before you get a headlight installed. It's safe to stick by the recommended power rating if you want the best results for your vehicle and keep your warranty.
Getting a more powerful bulb would come with having to cut some wires to get that installed. That will result in the warranty being gone.
Moreover, more powerful bulbs tend to last a little shorter since the filament burns at a higher rate. So, before getting a bulb, know what you really want and be aware of the repercussions.
The Temperature Of The Color
The color temperature is one of the most crucial parts of a headlight. It is basically the determinant of how clear your view on the road will be.
You will notice that most older cars have a yellow tint in the headlights. On the other hand, the newer cars with better bulbs will have a whiter color to provide more clarity of the road.
Due to modern technology, now the more expensive cars are using LED technology for the headlight allowing for a brighter and clearer color of the light.
The Fitting Of The Headlight
The first thing before getting a headlight should be to know what fitting of the headlights is suitable for your car. There are many fittings, namely HB4, H8, 9005xs, and so on.
If you get a headlight with the wrong type of fitting, it will not work for your car. So, make sure you are aware of the type.
Top 5 Best 9006 LED Bulbs (Our Picks)
Out of all the LED bulbs for your headlight on the market, be sure to check out the following ones!
With 60 watts of power and 12000 lumens, this bulb is sure to provide plenty of light. The color temperature is also 6500 Kelvins, making it perfect for use in a variety of applications. Each bulb has an aviation aluminum shield ensuring proper heat dissipation. All of it comes in a fan-less design.
The high power and lumen make the bulb extremely bright. On top of that, the bulb is really luminous and spreads wide. Moreover, this one has a radiant Xenon white color due to the color temperature.
The heat dissipation makes sure it doesn't overheat and die fast. And the lack of a fan eliminates any excessive noise.
Who should buy it?
Regarded as one of the best 9006 LED headlight bulbs, this one is an excellent choice if you are looking for a really bright bulb that can spread wide enough. If your car has a 9006 or HB4 fitting, you can give this a try.
---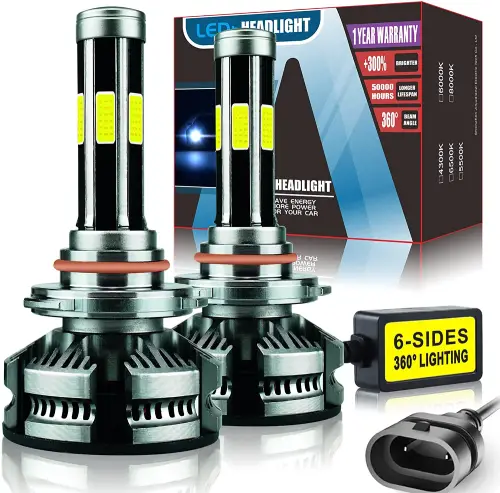 With 50 watts of power and 10000 lumens of brightness, it's sure to give you a clear view of the road. The color temperature is 6500 Kelvins, so it's less on the yellow side, making for a more natural light.
Also, it has chips on 6 sides which create 360 degree lighting. The chips on every side allow the light to reach a good distance in all directions—increasing the visibility of the road.
Lastly, the 12000RPM high-speed fan plays a great role in heat dissipation.
All these usually have a lifespan of 50,000 hours—thanks to the high-speed fan with the turbo cooling system.
Who should buy it?
The light output is bright enough to see clearly at night without being blinding, and the beam pattern is wide and reaches far down the road. This makes it perfect for long highway drives or dark country roads.
---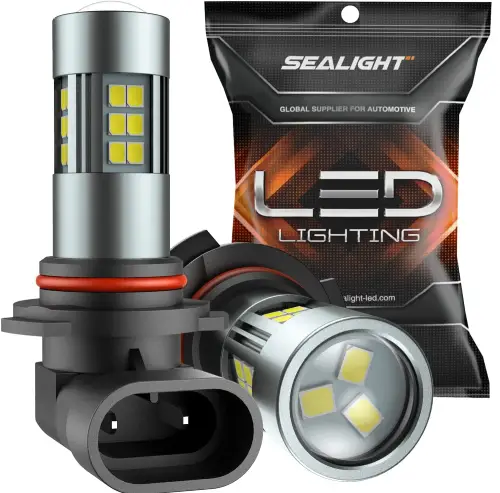 Thanks to the 27 LED chips around the bulb, you get a 360-degree view of the road. And at 5000 lumens per group, they're plenty bright too. Also, it provides a cool color of 6000 Kelvins.
It's made of all-in-one aluminum body which helps in heat dissipation. All these come in a compact design and with non-polarity plugs.
Due to the number of lumens, the bulb can be as bright as 150 halogen bulbs. The overwhelming amount of LED chips around the bulb provides unparalleled clarity of the road—as it reaches so far and wide. Moreover, the color temperature provides a radiant Xenon white color.
Its lifespand is around 30,000 hours, and the non-polarity plugs allow to fit in more cars.
Who should buy it?
There's no better way to light up your foggy night than with this bright and far-reaching LED bulb. This one is certainly the best 9006 LED fog light bulb for you.
---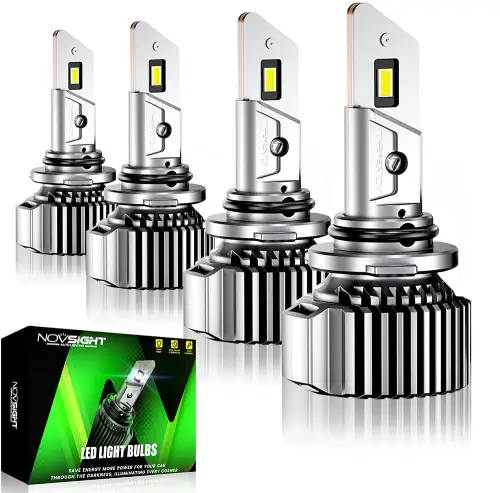 These LED headlight bulbs have an overwhelming power of 200 watts and 20,000 Lumens making it one of the best brightest 9006 LED bulbs out there. The temperature of the color is 6500 Kelvins. Moreover, the 1mm light distribution structure is great.
To make a good heat dissipation system, it is made of Aluminum, copper plate, and a 12000RPM turbofan.
The huge power paired with a large number of lumens helps it produce one of the brightest lights in any LED halogen replacements. To make sure the light is spreading wide, the light distribution structure helps. And the cool white color complements the brightness for clarity.
The heat dissipation system lets the light work for 10,000 hours continuously.
Who should buy it?
Anyone looking for the brightest halogen replacement on the market can get this one with no worries. It spreads really wide as well.
---
The halogen headlight bulb has a power of 55 watts and luminosity of 1000 lumens. Compared to most other halogen headlights, it provides more clarity and whiteness instead of the traditional yellow color. It also has a cobalt blue coating.
The cobalt blue coating allows for the light to transmit effectively and efficiently, allowing for a better and wider view.
To top it off, it has an alloy coating to complete the look of a proper headlight.
Who should buy it?
If you are looking for a halogen headlight with white light instead of yellow—and that without causing too much strain on your wallet, this could be your choice.
---
LED vs Halogen Headlights
In most cases, the more preferred choice for most people would be the LED headlights because of many good reasons.
LED lights are much brighter with higher wattage and lumen. This allows for a bright and widespread light compared to the halogen variant.
The temperature of the light is also cooler, which makes it whiter, providing for more visibility of the road—which is extremely important.
They are way more energy-efficient as well. Last but not least, they simply look a lot more modern.
However, nowadays, there are some halogen headlights that are white in color and can get pretty wide. However, they can barely be as bright and powerful as the LED ones.
Final words
Hopefully, you've found the best 9006 LED bulbs by now. After reading about all the features and the benefits each of them brings to the table, it should be easy for you to decide which one is the best for you.
Consider the pros and cons and invest in a good pair of headlights that can be your partner for a long time!