Large pickup trucks such as the Ford F150 are well known for their excellent and robust engine performance. However, the exhaust that comes with the vehicle originally does not measure up to the caliber of the vehicle.  
A good exhaust sound system is vital when it comes to enhancing the overall performance and sound of an F-150 vehicle. Therefore, if you want to improve the vehicle's performance and build up its strength, then you must invest in a good-quality sounding exhaust.
Fortunately for you, we have made a detailed list of recommendations for the best sounding exhaust for F150. So, keep on reading!
What To Consider When Buying a Sounding Exhaust
When there are so many options available both online and offline, choosing one might be difficult. Let's have a look at the factors that could impact your decision to acquire a good exhaust system.
The Sound
There are countless exhausts in the market that are frustratingly noisy; it's wise to steer clear of those. Look for exhausts that make your truck growl like a four-wheel beast it is!
Additionally, you should keep your eyes out for exhausts that are fairly loud while you accelerate but fade off gradually once you reach high RPMs. In such cases, a roaring Ecoboost is not what you want when traveling down a busy road.
The ideal exhaust system is loud and aggressive initially but eventually settles into a pleasing grumble at high revs. Since these gears can't be tested before purchasing, it's a wise idea to sound-check them online by comparing different exhausts.
Material Quality and Its Build
Inspecting the structure and materials utilized for any gear is always crucial before making a purchase. Steel is the most commonly utilized material for sounding exhausts. For a more durable exhaust, look for ones made of stainless steel, as they are likely to last longer due to their resistance to rust and corrosion.
Additionally, aluminized steel tubing exhaust is a superb option that will last for many years. You should also seek premium-built exhausts. This is because it will assure excellent temperature resistance, improved fume reduction, and an overall healthier engine.
Ease of Installation
Ease of installation is something that we all look for. In this regard, look for the specifications of fitment. Manufacturers usually specify which automobiles their exhaust systems are intended for. If you don't see your vehicle's name, don't buy it because it's unlikely to be compatible.
If you want easy-to-install exhausts, go for the ones with OE fitting. These will not require any further drilling, cutting, bending, or purchasing of additional components. And this will almost certainly save you a lot of money on Mechanics' fees!
Type of Exhaust
The most prevalent types of sounding exhaust systems are cat-back and axle-back. In the long run, a cat-back exhaust system is an ideal option for F150 vehicles.
An axle-back exhaust, on the other hand, does not provide much of a performance boost but is much easier to install yourself. As a result, depending on what you're looking for in an exhaust, you have an alternative to choose from.
Performance Benefits
A high-tech exhaust can help your truck operate better. It can, for example, improve the miles per gallon (MPG) ratio. In addition, depending on your car model and engine, you might expect a 10% increase in fuel efficiency.
Moreover, the acceleration might improve as well if the original system is clogged. As a result, the benefits an exhaust delivers to your car are also something to consider.
Best Sounding Exhaust Systems for F150
Let's have a look at the best exhaust systems for F150 on the market now that we know what factors and features to look for before making a purchase:
This dual cat-back exhaust system is easily one of the best sounding exhausts for a 2.7 Ecoboost F150. In addition, these are also highly compatible with 3.5 and 5.0 FI50.
Moreover, the stainless-steel structure makes it more durable and resistant to rust and corrosion, which is always a plus point for sounding exhausts.
Furthermore, the best aspect of this exhaust is that it gives off that satisfying deep, rich and throaty sound that you should always be looking for in exhausts. This expertly designed cat-back exhaust system produces a robust external sound while reducing internal resonance.
Who should Buy it?
All these factors make it one of the ideal sounding exhausts for F150 vehicles. Especially for FI50 pickup trucks with 2.7L, 3.5L, and 5.0L Ecoboost.
If you are someone who prioritizes ease of installation or a booming sound comes first for you, then you're in luck. With the BORLA exhaust system, you don't have to choose between the two because you will get the best of both worlds from this system.
The CNC manufacturing of this high-tech system makes installation a lot easier and makes it more convenient for you to install it on your own. Positive pressure is used to force the exhaust to its optimum capacity, producing a pleasing growl.
Overall, the BORLA exhaust can easily be referred to as the best sounding exhaust for F150 3.5 EcoBoost. However, these gears can be a bit on the pricier side.
Who should buy it?
Users with F150 trucks with a 3.5 EcoBoost who is not worrying about the budget can go with this sounding exhaust. Its performance for F150 3,5 EcoBoost is unparalleled!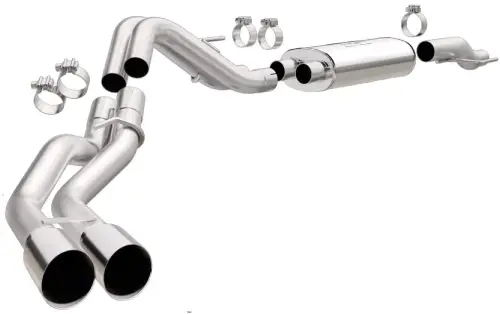 If you have a Ford F150 with the 5.0-liter V8, MagnaFlow's exhaust will almost certainly be the best option. This is the best sounding exhaust for F150 5.0 in the market, and you won't be disappointed with the results.
The gear sounds great on both high and low RPMs. This means you won't have to put up with distractingly loud growls or squealing sounds when you accelerate. Furthermore, the expertly manufactured gear is specifically developed for F150 vehicles to maximize performance and efficiency.
MagnaFlow exhaust's only flaw is that it takes a long time to set up, even though the process of installation is quite straightforward.
Who should Buy it?
This MagnaFlow Exhaust system works best for Ford F150 with a 5.0L V8; if you're someone owning such a vehicle, then this is the right choice for you!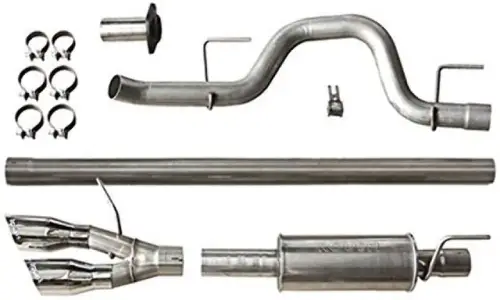 Roush gears are made with great engineering even though their effect on fuel mileage is not as great as the other sounding exhausts in this list. It's made of high-quality stainless steel that's been chrome-flashed for enhanced corrosion resistance and durability, making it an excellent investment.
The sounding exhaust improves airflow and helps the vehicle attain its maximum horsepower and torque potential due to its lower backpressure.  
Moreover, its ease of installation is another reason for getting this system. All you'll need is a standard tool kit and a jack lift to complete the task. Its simple bolt-on system largely adheres to the OE installation procedure, making it easier to install on your own with the help of the user guidelines it comes with.
Who should buy it?
This exhaust system works exceptionally well with heavy-duty pickup trucks, including FI50 2011-2014 5.0L and 6.2L ones. Therefore, people with these vehicles prioritizing ease of installation should consider this sounding exhaust system.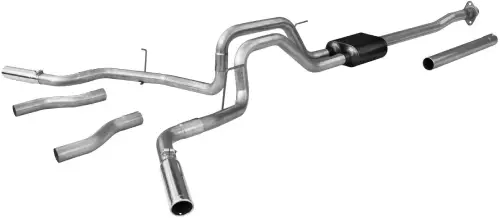 Flowmaster is unquestionably a forerunner in this industry. This exhaust system uses Delta flow technology, which makes it fairly durable and efficient. And the best part is, it is very cost-effective for the range of benefits you get from it!
It provides that pleasing powerful tone that most truck owners enjoy; however it can be a bit noisy when reaching high RPMs. Therefore, for people not caring about interior noise and looking for an exhaust within a budget, Flowmaster is the best option for you!
Who should buy it?
This is the go-to exhaust system for F150 vehicles getting a change for the first time. Therefore, if this is the first time looking for a sounding exhaust that gives you value for your money for your F150, this is the one for you!
Conclusion
Despite the Ford F-150 being one of the most impressive trucks, its original sounding exhaust system is not impressive compared to its overall quality and performance. Without a good quality exhaust, it just sounds like a regular car, not to mention the quality of the original exhaust is sub-standard at best.
Fortunately, this can easily be solved by replacing the existing system with a high-quality new sound exhaust. The list of best sounding exhausts for the F150 mentioned above gives you a detailed account of the gears. Choose any of these that meets your requirements and enjoy the benefits!