If you want the best performance from your 5.7 Hemi, you need the best synthetic oil for your engine. After all, regular oil maintenance is not something you can be careless about when it comes to keeping your engine in top shape.
Unfortunately, finding synthetic oil compatible with your engine can be pretty tough. If you are feeling a bit lost, don't worry. Our guide for choosing the best synthetic oil for 5.7 Hemi will help you find the specific synthetic fuel your engine needs.
So, let's dive into the article!
How To Choose the Right Synthetic Oil for 5.7 Hemi
The best oil for high mileage 5.7 will need to fulfill some criteria before it can go into your engine.
Here is a list of what you need to look for before buying synthetic oil.
Synthetic Type
There are two types of synthetic oils: blended synthetic oil and fully synthetic oil. Blended synthetic oil is a mixture of conventional oil and synthetic base. 
Synthetic blend oil is better than conventional oil and is cost-effective. On the other hand, fully synthetic oil is better than traditional and blended synthetic oil.
Viscosity
High viscosity oil slows down fuel breakdown at elevated temperatures and pressure. The best viscosity for your 5.7 Hemi is SAE 5W-20. 
However, if your truck is from the 2500 or 3500 series, then SAE 5W-30 is the best option for you.
Temperature Performance
You need synthetic oil that will work great at low and high temperatures.
API Standard
Make sure your car is certified for API with Low-Speed Pre-Ignition so that your car can give its best performance under any condition.
Best Synthetic Motor Oil: Our Picks
In order to get the perfect oil for high mileage 5.7 Hemi, read our reviews of our top recommendations.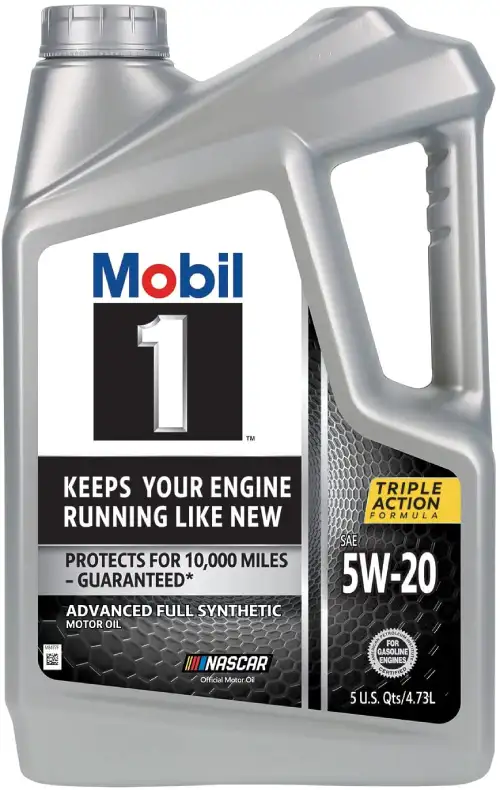 It's widely regarded as the best 5w-20 synthetic oil out there, and I'm of the same opinion as well.
The brand Mobil affirms that this fuel can shield your engine and all of its components for up to 10000 miles. So, you can drive for a long time without facing any severe issues. 
Mobil 1 oil prevents rusting or malfunction by diminishing the oxidation of engine parts with its antioxidant agents.
As Mobil 1 is synthetic oil, one of the best advantages is that this oil will systematically and effectively shift the heat that parts of an engine produce. As a result, you will receive the best performance from your engine with an ideal temperature.
Mobil 1 can work in both extremely high and low temperatures. It will function smoothly at the highest temperature of 5.7 Hemi, which is 500⁰ F. Besides, it will also run fluently at the lowest temperature, approximately -30⁰ F.
Mobil 1 fits the standard for ILSAC GF-6. It essentially means that this oil will maintain your engine by keeping it clean and protecting it. Also, this oil will decrease the LSPI or low-speed pre-ignition.
Who Should Buy
Mobil 1 is the right synthetic oil for those living in cold regions because this is one of the few synthetic oils that can function effortlessly in cold weather. 
Also, for those who do not have a warranty for their engine, experts recommend using the Mobil 1. This oil will give you maximum engine protection and the best fuel economy.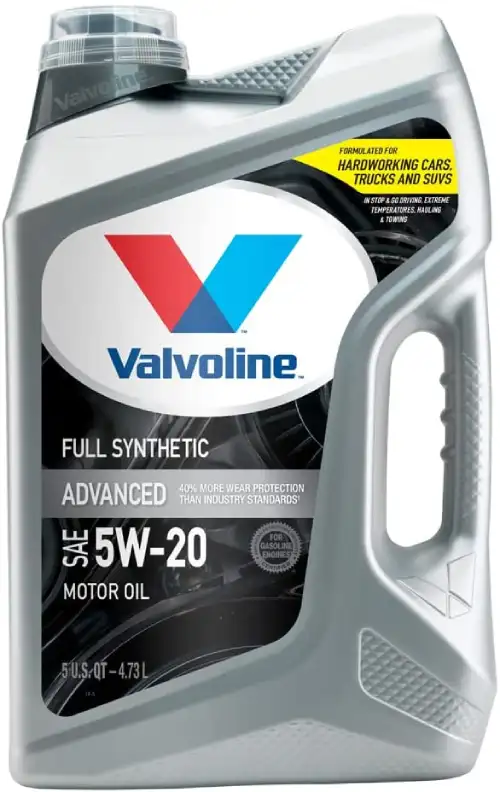 Valvoline Advanced Full Synthetic Oil is the oil that will maintain a happy engine for you. The Valvoline company has manufactured this synthetic oil with anti-corrosion supplements to decrease all types of pressure from the engine. As a result, you will receive a prolonged engine life.
This oil also helps to control engine's temperature, which also expands the lifespan of your engine by 40%.
Deposits stuck in the engine linings prevents the flow of fuel. As a consequence, the lifespan of your engine gets diminished. Also, your engine loses its ability to provide you with the best performance. Valvoline uses a specialized detergent in their Advanced Full Synthetic Oil that removes all kinds of deposits from the linings.
Antioxidants used in this synthetic oil will reduce the rusting amount to almost zero.
This oil by Valvoline is API SP certified. The certification means if your engine faces any malfunction, this oil will not cause any problem.
Who Should Buy
Valvoline Advanced Full Synthetic Oil is the best synthetic oil for those who use their vehicle in extreme conditions and extreme temperatures.
Another outstanding option of synthetic oil for your Hemi 5.7 is this oil by Pennzoil. It is one of the purest forms of synthetic oil because no crude oil is used to produce this oil, only gas.
Pennzoil has its very own PurePlus patented technology. It means that Pennzoil uses pure gas to convert it into translucent foundation oil with zero impurities of crude oil.
This technology also reduces the amount of deposits in the engine, which increases the lifespan and mileage of your engine.
Pennzoil claims that using this oil will increase your engine's mileage up to 550 miles per year. It will happen due to its ability to keep the piston and engine clean.
Pennzoil has passed the ILSAC GF-6 and IIIH Piston Deposit tests and other essential assessments for this oil. This means that Pennzoil Ultra Platinum oil will keep your engine spotless and protect your engine against extreme wear and tear.
The oil prevents the clogging of deposits in your engine and maintains continuous oil flow. This uninterrupted oil flow transfers heat from the engine. As a result, the engine can function at any extreme temperature.
Who Should Buy
Users of Mopar oil can use this Pennzoil oil as a substitute.
Those who drive SUVs, vans, and trucks should also buy this synthetic oil from Pennzoil. Also, if you use your car for racing, this is the oil for you.
Castrol Edge High Mileage is one of the best synthetic oils to keep your engine running smoothly. This oil, mixed with some essential additives, prevents leakage in your engine. These additives also work towards maintaining a clean and clear engine for you.
Castrol uses Titanium Technology for this oil which increases the strength of the oil layer. Edge High Mileage Oil transforms into a cushion-like structure under extreme pressure and protects the engine from any impact.
The Edge High Mileage Oil reduces all sorts of leakage of your engine and lessens the amount of excess oil burn up.
This is one of the cheapest synthetic oils, costing 10 to 20 cents per Fl oz. So, it is cost-effective as well as fuel-efficient. 
Who Should Buy
You can go for Edge High Mileage Oil if you are looking for something cheap and effective. Also, this synthetic oil lowers the amount of noise your engine makes, and thus ideal for those who prefer silent operation.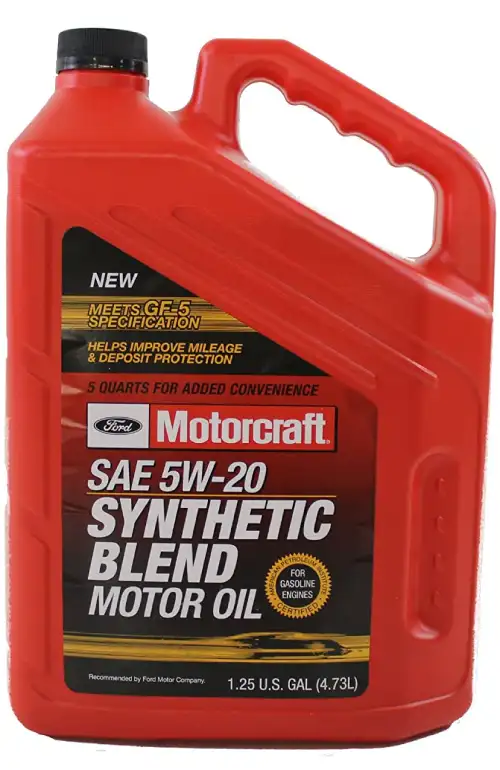 Ford Motorcraft Oil is one of the best synthetic blend oils for your car. It is not as good as full synthetic oil, but it is better than conventional oil. 
Motorcraft oil works tirelessly to lessen the amount of abrasion and protect your engine. It prevents the wear and tear of your engine and saves it from any extreme damage. So, you can use Motorcraft synthetic blend oil for any rough and challenging conditions.
Motorcraft decreases the engine deposit and foaming and creates a smooth oil flow. It also lessens gel production caused by extremely low temperatures. 
Motorcraft Oil takes a long time to decay. Experts recommend you change your oil every three months or every three miles. But due to its slow degradation, you can use Motorcraft for up to six months. 
Who Should Buy
Ford Motorcraft Oil is the best option for those who drive hard and like to rev up your car pretty frequently. 
Also, if you are one of those who take a long time before changing their oil, Motorcraft is the one for you. 
---
Why Buy Synthetic Motor Oil
Synthetic oil is the best option for diesel and gasoline engines. It is also chemically stable, which is not the case for other oils.
This oil is also almost free of any toxins and pollutants.
Synthetic oil will help you get the best performance from your engine for a long time.
Conclusion
The best synthetic oil is one that will protect your engine and keep it running smoothly for as long as possible. We've looked at five of the top picks for the best synthetic oil for 5.7 Hemi, but which one is right for you?
It really depends on your needs and budget. If you're looking for a high-quality oil that will offer superior protection, we recommend Mobil 1 5W-20 High Mileage Advanced Motor Oil for you.