Yes, you can put 35-inch tires with a 3-inch lift on your Jeep Wrangler JL and JK models. However, for the older TJ and YJ models, a larger lift kit and other modifications will be necessary to fit the larger tires due to their smaller fenders and wheel well clearances. It is important to take into account the necessary modifications and potential issues before making any changes to your vehicle.
We have just scratched the surface of this topic. We'll dig deeper into the following segments.
Can You Put 35-Inch Tires With A 3-Inch Lift On Your Jeep Wrangler?
You can put 35" with a 3 lift on the Jeep Wrangler JL, and JK. The stock tire size for these models is typically 30-32 inches with a total tire sidewall of 13-14″ and rim size of 17-18″. With a 3″ lift kit and minor modifications, it's possible to fit larger tires on these models due to their larger fender and wheel well clearances.
However, for the Jeep Wrangler TJ and YJ models, a 3″ lift is insufficient to accommodate 35″ tires. These models have less fender and wheelhouse clearance, requiring a larger lift kit. Other modifications will also be necessary to fit the larger tires.
For a quick overview of the issues and solutions related to this configuration, refer to the table below.
| | | | |
| --- | --- | --- | --- |
| Jeep Wrangler Models | Issues with installing 35-inch tires | Necessary Modification | Off-roading Recommendation |
| JL | No major issues | 3" lift kit | Recommended |
| JK | Rubbing with fender | Fender trimming 2-3" lift spacer | Recommended |
| YJ | Rubbing and scrubbing with the fender and wheel well | Fender trimming4" Leveling kit3" Spacer lift kit | Not recommended |
| TJ (Rubicon) | Rubbing scrubbing with the fender and lack of power to drive | Steering upgrades Brake upgrades New control arms New track bars A larger lift (at least 4.5 inches)Slip yoke eliminator Double cardan | Not recommended |
Now, let's move on to the in-depth discussion.
Wrangler JL
Wrangler JL can easily adopt the 35" tire without any major modifications as it has a larger fender diameter. It's a fourth-generation model of Jeep Wrangler specially designed for off-roading. And as a result, it can adopt a bigger size tire.
So if you want to install a 35" tire on this model you can do it even with a 2.5" lift. Additionally, you won't face any issues like rubbing or scrubbing. And due to that, you don't need any additional modification.
Wrangler JK
The Jeep Wrangler JK model can accommodate a 35" tire with a 3" lift, but this requires some fender trimming due to the narrower fenders compared to the JL model. The stock tire on this model is 32" with a 3" fender clearance, so upgrading to a 35" tire eliminates the fender clearance and results in the tire rubbing against the fender.
To mitigate this issue, a minimum of 3" fender trimming is required to prevent rubbing and scrubbing. In addition, other modifications such as a gear ratio upgrade may be necessary to achieve optimal performance.
Larger tire size affects the transmission-to-engine operation, which affects the balance between torque and efficiency. Without a gear ratio change, you'll experience poor gas mileage and quick transmission wear.
Wrangler YJ
it's not feasible to install a 35" tire with a 3" lift on a YJ Jeep due to its stock tire size of 27-29" and maximum fender clearance of 3". The available space within the fender is approximately 30-32", which is insufficient to accommodate a 35-inch tire with only a 3" lift.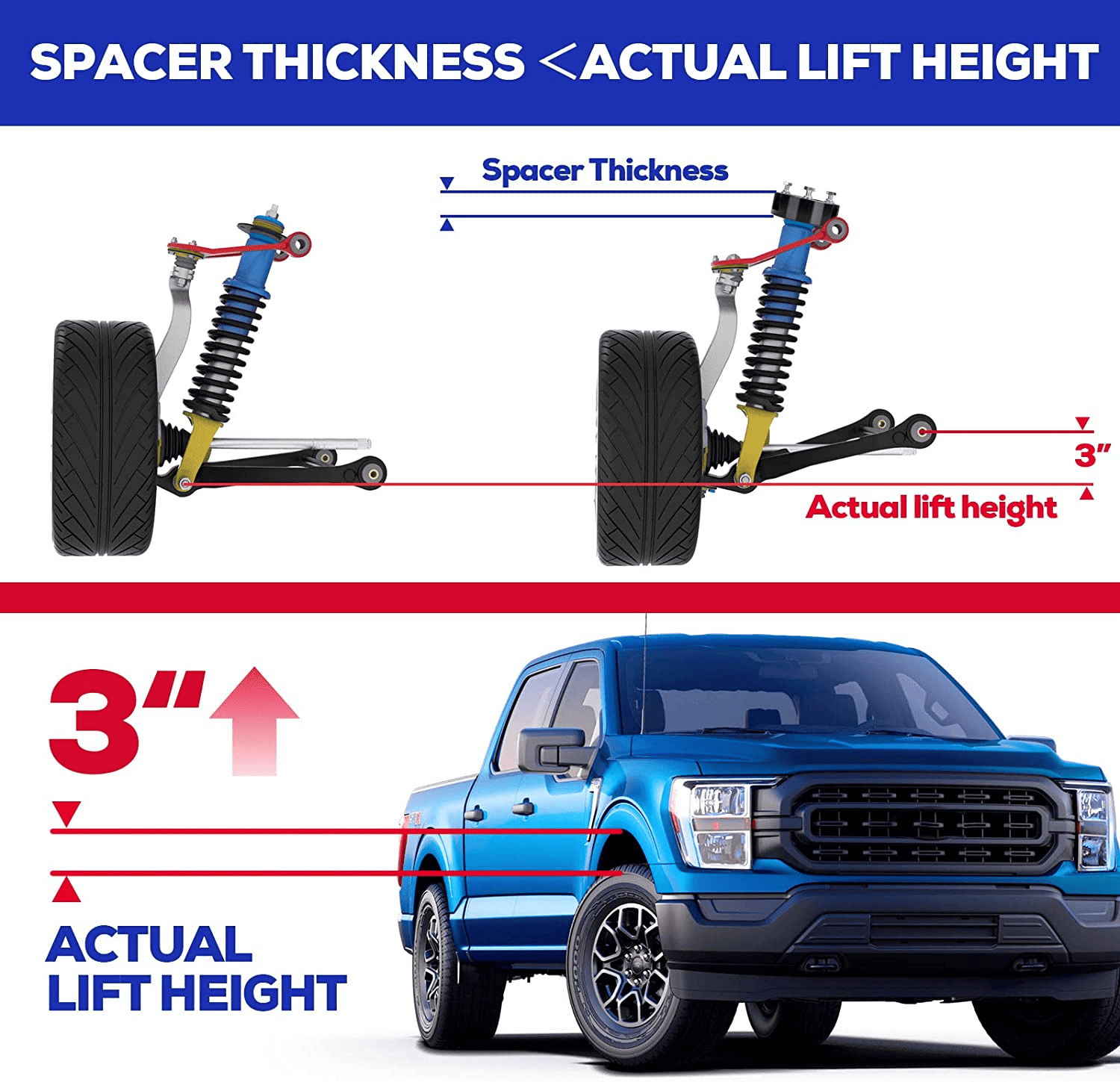 Source: Amazon
To install a 35" tire on a YJ Jeep, it's essential to have a minimum of a 4" leveling kit and a 3" spacer kit to prevent any rubbing or scrubbing. Additionally, several significant modifications are required. We do not recommend this course of action, but if you are determined to proceed, it's advisable to seek guidance from a professional mechanic.
Before moving forward, let me ask you something; do you find it difficult to rotate your tires? I yes, go through the right Jeep 5 Tire Rotation process and thank me later!
Wrangler TJ
You can't put a 35" tire with a 3" lift in Wrangler TJ as this model has a maximum of 32-33" stock tire. If you replace it with a 35" tire, then a 3" lift won't be sufficient to avoid rubbing and scrubbing.
The Wrangler TJ has three distinct models: Rubicon, Sport, and Sahara. The Rubicon boasts a Dana 44 front and rear axle, while the Sport and Sahara feature a Dana 30/35 front and rear axle.
Although Jeep claims that only the Rubicon can accommodate 35-inch tires without modification, tests have revealed that a 2-inch lift is necessary for sufficient ground clearance when off-roading. Therefore, even the Rubicon's Dana 44 axle is insufficient for off-road adventures.
Hence, to fit a 35" tire on Sahara and Sports you'll need a minimum of 4.5" lift and so many added modifications. However, this model isn't actually designed for a 35" tire.
It's important to note that the TJ is equipped with an Independent Front Suspension (IFS) system. When a larger tire size is installed on this vehicle, there is a likelihood of increased rubbing with the control arm. To address this concern, it is necessary to obtain a new control arm that includes an extended spacer. This will effectively alleviate the issue. (1)
However, if you want to put a 35" tire on your TJ it'll be really expensive as there are a number of things you need to upgrade to accommodate it.
If you're also confused about 'Can I Fit 35 Inch Tires On 20 Inch Rims?' I hope the connected page will help you get the answer.
Which Is The Recommended Tire Size For a Jeep Wrangler?
Either the stock or 33" tire is typically recommended for most of the models of Jeep Wrangler, as it fits without requiring any significant modifications. This is especially true for the JL and JK models, where the tire can be installed without any adjustments.
Therefore, a 33″ tire is an excellent choice for both on-road and off-road driving, as it provides a sufficient amount of sidewall to absorb shocks from the road. This makes for a smoother and more comfortable ride. Additionally, the larger tire size can also enhance the vehicle's overall appearance, making it a popular choice for many Jeep owners.
How to Install a Jeep Wrangler JK 3-Inch Lift Kit?
The process of installing a 3-inch lift kit is both lengthy and weighty, necessitating the disassembly of significant and massive vehicle components. As a result, seeking the assistance of a skilled automotive specialist is always recommended.
Nevertheless, for those who enjoy a do-it-yourself approach, the following video tutorial provides a helpful guide for completing the task independently.
FAQs
Do 35s Ride Rough?
No, 35-inch tires are designed to withstand rough and rugged terrains, offering excellent quality, and performance. Also, the longevity ensures a smooth and comfortable driving experience. Also, the higher sidewall absorbs more shocks to prevent rough rides.
What Gear Should I Run With 35 Tires?
You should run a 4.56 gear ratio with 35″ tires for optimal performance. This provides sufficient low-end power to maneuver challenging obstacles and reasonable fuel efficiency at highway speeds. A gear ratio chart is also available, which compares tire size to gear ratio for ideal RPM
What Does A 3 Inch Lift Do?
A 3-inch lift kit increases the off-road capability of your vehicle by providing additional ground clearance, which enables larger tires to be fitted. This kit is an easy-to-install and maintains option that preserves the original geometry of your truck.
Endnote
Thus, we're concluding the discussion on can you put 35-inch tires with a 3-inch lift on your jeep wrangler. It is highly advisable to seek guidance from a qualified professional to determine the extent of modification necessary to accommodate larger tires on your vehicle.
The reason is that there may be certain caveats or uncertainties associated with the process, making it crucial to obtain specific model-based recommendations from an expert. Thanks for your patience!