Akebono ProACT is an economical option were as the Akebono Performance is an expensive and high end vehicle brake pad. Proact is quieter and smoother as compared to Performance but Performance is highly efficient and powerful.
That is why Proact is recommended for small and light weight vehicles whereas Performance is recommended for heavy weight vehicles. This article is all about Akebono ProACT vs Performance so that you can select better for your vehicle.
Introducing Akebono Proact & Performance Brake Pads
A very important part of your car is the brake pad. They work to apply vehicle brake in any and every situation. Every time you apply brake these brake pads wear and that's why they need to be replaced frequently.
Akebono is one of the best brake pad brands on the market today. The two most popular of the company's products are ProACT Ultra-Premium and Performance Ultra-Premium Brake Pads.
If you are confused about the two high-end brake pads of Akebono, then this article is for you. This article is a guide for you to choose between Akebono's ProACT Ultra-Premium and Performance Ultra-Premium Brake Pads through a comprehensive work on AKebono ProACT vs Performance.
Akebono ProACT Vs Performance
There can be number of parameters or factors that can influence the selection of the best brake pads for your vehicle. It truly depends on the driver. What the driver wants and how driver drives its vehicle will define which brake pad to select.
From all the parameters that can work to select the best brake pads, we have short listed best five factors for Akebono ProACT Vs Performance.
| | | |
| --- | --- | --- |
| Fact | Akebono ProACT | Akebono Performance |
| Noise | % stops> 70db | % stops> 90db |
| Pad Wear | 0.07 mm/1,000 stops | 0.15 mm/1,000 stops |
| Rotor Wear | 0.02 g/1,000 stops | 0.02 g/1,000 stops |
| Vehicle Type | Minivan or Sedan type light vehicle | Trucks, SUVs, fleets or law enforcement/government type bigger vehicle |
| Price | Cheaper (about $25-$90) | More expensive (about $40-$130) |
Besides the above short comparison of Akebono ProACT Vs Performance, below we have discussed both brake pads in detail. Let's explore that information.
Akebono ProACT Ultra-Premium Brake Pads are among the best in the current market. It was designed in such a way that you could use it for installation as an Original Equipment Manufacturer (OEM) replacement.
A couple of skilled hands carefully selected the materials to make the Akebono ProACT brake pads. These brake pads give an extremely strong performance and greatly reduce the amount of brake dust when braking.
Why Akebono Proact brake pads are best?
These brake pads are designed and manufactured to be a reliable option for Original Equipment (OE) replacement. Its modern and optimized ceramic formulation has made brake pads the most trusted product in the market.
These brake pads are capable of meeting all your expectations. Akebono ProACT is a very quiet, smooth, and cost-effective brake pad solution. It does not decay very easily due to its high material wear resistance. You get a consistent paddle feel and no dust is produced during braking.
Who Chooses Akebono Proact Brake Pad?
The Akebono ProACT is an ideal choice for those looking for a road-friendly brake pad. All type family and domestically use vehicle chooses these brake pads because of their high performance, excellent efficiency, and impressive track record.
These brakes can work in any on road and off road conditions. Akebono's ProACT is the best choice for every OE replacement, regardless of the type of pad initially installed in car.
Here are some key features of the popular Akebono ProACT Ultra-Premium Brake Pads:
Performance
The Akebono ProACT Ultra-Premium Brake Pads are unique in terms of performance. These give you quality performance with smoothness and consistency.
Akebono's state-of-the-art ceramic technology is the reason behind their unparalleled ability to stop in an emergency. You will not notice the slightest sound or vibration while driving.
Clean Wheels
We already know that all the materials in Akebono ProACT Ultra-Premium Brake Pads have been carefully selected to ensure high performance. Over time dust accumulates on the wheels and causes damage.
The Akebono ProACT Ultra-Premium Ceramic Brake Pads have several beneficial features such as removing unwanted brake dust.
You may find cheaper options in the market but they will not be able to serve you for very long. They will accumulate a lot of dust on the wheels and it takes a lot of time to clean them. So to avoid all these problems, Akebono ProACT is at your fingertips.
Covers a Wide Range of Cars
Another notable feature of the Akebono ProACT is that it covers different models of cars from many popular brands. List includes but not limited to Mitsubishi, Ford, Chevrolet, Nissan, Honda, Cadillac, Pontiac, etc. So there is no chance that you will not get brake pads of Akebono ProACT brand for your car.
Omits Noise
The Akebono ProACT brake pads are extremely quiet and equally effective. With ground-breaking ceramic technology, you'll find a consistent brake pedal feel with extreme quietness and negligible wear on the brake rotors.
Pros
Much less noise than OE
Equally, great braking performance compared to OE brake pads
No worries about the break-in period
Ensures optimal pad bite and paddle feeling
Positive mode and advanced shim material design ensure irresistible sound and vibration levels
Cons
Depending on the model of your vehicle, Akebono may not comprise clip hardware
It may not be the best option for extreme use.
---
The Akebono Performance Ultra-Premium Brake Pads are capable of controlling the speed of the vehicle very easily in extreme driving conditions and the most difficult terrain. These brake pads are best suited for SUVs, trucks, and fleet vehicles.
Akebono Performance brake pads ensure high performance and maximum braking force.
What Type of Brake Pad Is Akebono Performance?
Akebono Performance Ultra-premium Brake Pads stand out as the most advanced Akebono pad you can own. It has everything you need for a perfect brake pad. You can use them in extreme applications.
At the same time, you will get more class-stopping power, less dust production, and less noise and vibration. The hardware of these pads is made of premium stainless steel which provides you with the best results from the beginning.
Who Chooses the Akebono Performance Brake Pad?
Akebono Performance Ultra-premium Brake Pads are especially for those who like fleets, towing/hauling, or driving on busy roads. These brake pads are also perfect for law enforcement vehicles.
However, this is not for those whose budget is limited and who want to venture out into extremely cold climates.
Now is the time to learn about some of the notable features of Akebono Performance Ultra-premium Ceramic Brake Pads. Those are given below:
Superior Design
Akebono Performance Ultra-premium Brake Pads are welded with a mixture of advanced ceramic formulations. As a result, the pads increase in capacity and allow for complete friction and adjustment with the rotor.
As well as extending the life of your car's rotor and there is no damage due to the brake dust. Also, the sleek design of the Akebono Performance Brake Pad ensures a perfect fit without any squeaking noise or vibration.
Stopping Power
Do you know why Akebono Performance Brake Pads are used in SUVs, small trucks, and police vehicles? One of the reasons behind this is its super stopping power which gives the car more safety and a smooth stop.
At the same time, it produces less dust by keeping vibration and noise at a very low level. Akebono ensures you the best stopping power for these brake pads.
Durability
Akebono Performance is ahead of everyone else not only in terms of security but also in terms of sustainability. Thanks to these you can control the hardest brake perfectly on any kind of rough road.
It incorporates ceramic technology features that you will get a long life with safe and smooth brakes every time you hit the brakes. So there is no comparison of Akebono in terms of durability.
Suitable for Heavy Vehicles
Akebono Performance Ultra-premium Brake Pads are extremely suitable for heavy vehicles. An immediate braking system is very important for heavy vehicles on rough roads.
There is no comparison of Akebono Performance to ensure that the brakes can be performed properly in such a situation. If you have such a heavy vehicle then you can rely on Akebono's Performance brake pad.
Pros
Ultra-low dusting system
Good noise reduction ability
Specially engineered to require optimal pad bite for any heavy vehicle in any driving situation
Absolute stopping power even in extreme driving conditions
A great alternative to semi-metallic brake pads.
Cons
More expensive than any other ultra-premium pad
You may also need sports or premium rotors to get the most out of them.
---
What Makes Akebono Brakes the Best in the Competition?
There are two terms that make Akebono one of the best brake pad manufacturing companies on the market – durability and safety.
The company has been focusing on the overall improvement of its products since its inception about 93 years ago and has been providing consumer safety and durability with the brake pads it has produced.
Owners of various vehicles have relied entirely on the ProACT and Performance brake pads produced by Akebono.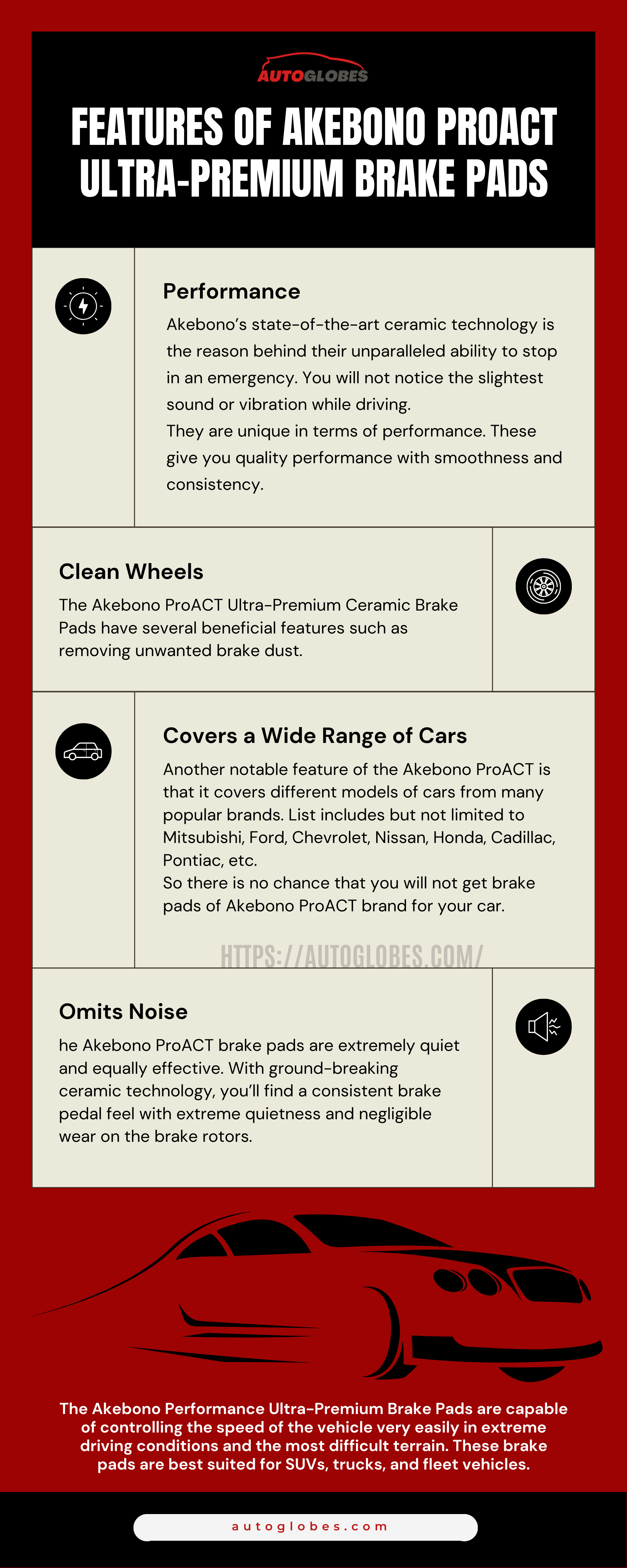 Concluding Akebono ProACT Vs Performance
We hope this article on Akebono ProACT vs Performance provides you with information that will enable you to choose the right brake pad for your vehicle. If you want to replace your car's brake pads, Akebono's ProACT and Performance brake pads are the best options for you.
If you own a car like a minivan or a sedan, then pick up the Akebono ProACT. On the other hand, if you have an SUV, truck, or car of this type, choose Akebono Performance. Above all, drive carefully.