No, you can't drive studded tires in the summer. They will cause poor performance and handling, rapid and premature tire wear, excessive noise, and reduced gas mileage. Moreover, using studded tires in the summer can damage the road surface, which is why many states prohibit their use during this season.
This article will explain whether can you drive studded tires in the summer or not in detail. It will also mention the state laws about the usage of studded tires. So, keep reading.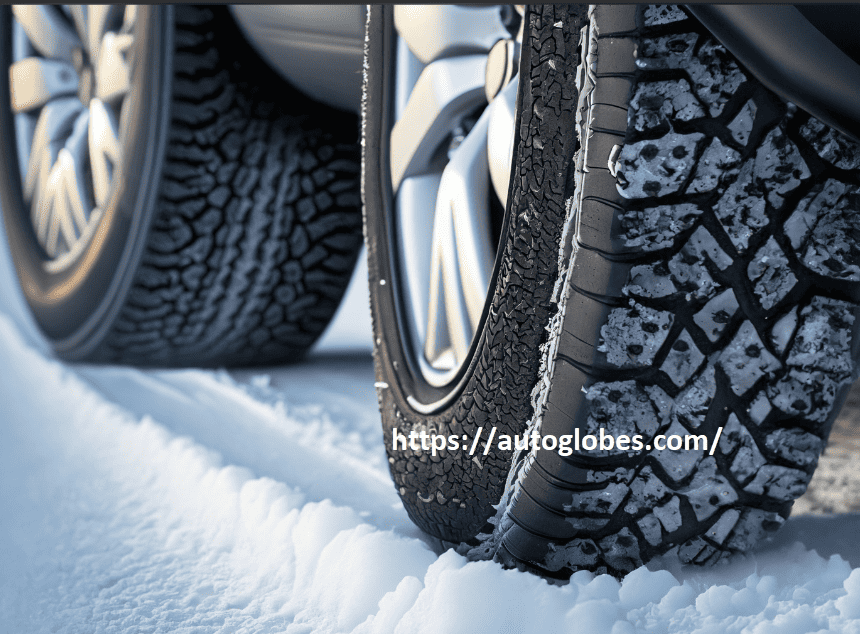 Can You Drive Studded Tires In The Summer?
No, driving studded tires in summer is not a good option. There are various reasons behind this. Let's discuss those reasons below.
Reason 1: Poor Performance & Handling
Like other winter tires, the studded tire has a softer rubber composition than the usual summer tires. It helps them stay soft and in good condition in cold weather. This type of rubber loses its structural strength and becomes way too soft during summer.
So, you will not get good performance while cornering, braking, and acceleration from this tire in summer. And they also wear out faster in this season.
Reason 2: It Will Cause Excessive Noise
Studded tires make way more noise than summer tires. In winter, the studs of the tire glide over the snow for better traction, so you won't notice the sound too much. But in the summer, the noise of these metal studs tires on plain roads can be bothersome for many people.
Reason 3: It Will Reduce Gas Mileage
The studs of the studded tires put more friction on dry roads than summer tires. Moreover, usually, the studded tires are 2 times heavier than regular tires which also increases the rolling resistance. Due to this additional friction, your car requires additional energy to perform and you get less gas mileage.
Reason 2: They Damage The Road
Each studded tire is embedded with 80 to 100 tungsten carbide studs. On snowy roads, they grip the snow for better traction. But in the summer, they get direct exposure to the road and damage the road.
They also rub away the pavement markings which could be dangerous for other vehicles. Moreover, as in hot weather, these tires lose some studs. Those studs can pierce other vehicles' tires and puncture them.
Due to this reason, most states limit the usage of studded tires only in the winter. So you need to remove studs from tires a before summer starts. 
When And Where Are Studded Tires Legal?
Some states allow you to use studded tires all year round and some states will not permit you to use them at all. Other states have a time limit on when you can use this tire. The following table will mention the legislation for all the states.
State
Studded Tire Permission Time
Alabama
Studded tires are only allowed when there is snow, rain, and other weather conditions that can cause the tire to slip.
Alaska
September 16th to April 30th
Arizona
October 1st to May 1st
Arkansas
November 15th to April 15th.
California
November 1st to April 30th
Colorado
Permitted all year
Connecticut
November 15th to April 30th
Delaware
October 15th to April 15th
Florida
Studded tires are prohibited in all seasons
Georgia
Only permitted in weather conditions when the tire may skid.
Hawaii
You can only use studded tires on the Mauna Kea access road or within the University of Hawaii's Mauna Kea Science Reserve area.Not permitted in other regions.
Idaho
October 1st to April 30thFire departments can use it anytime.
Illinois
Disabled persons living in unincorporated areas and mail carriers can use studded tires from November 15th to April 1st.
Otherwise, not permitted.
Indiana
October 1st to May 1st
Iowa
November 1st to April 1st
Kansas
November 1st to April 1st
Kentucky
Studded tires are permitted all year round.
Louisiana
Not permitted at all.
Maine
October 2nd to April 30th
Maryland
Vehicles registered under Carroll county, Washington County, Allegany County, Frederick County, and Garrett County can use studded tires from March 1st to March 31st
Otherwise not permitted
Massachusetts
November 2nd to April 30th
Michigan
Stud tires are not allowed at any season.
Minnesota
Stud tires are not permitted except for mail carriers. They can use it from November 1st to April 15th depending on the condition.
Mississippi
Can't use studded tires
Missouri
November 2nd to March 31st
Montana
October 1st to May 31st
Nebraska
November 1st to April 1st
Nevada
October 1st to April 30th
New Hampshire
Studded tires are allowed all year round
New Jersey
November 15th to April 1st
New Mexico
Only permitted when in slippy weather condition
New York
October 16th to April 30th
North Carolina
You can use studded tires in all season
North Dakota
October 15th to April 15thSchool buses can use it anytime.
Ohio
November 1st to April 15th
Oklahoma
November 1st to April 1st
Oregon
November 1st to March 31st
Pennsylvania
November 1st to April 15th
Rhode Island
November 15th to April 1st
South Carolina
Studded tires are permitted for all seasons
South Dakota
October 1st to April 30thFire vehicles and School buses can use them anytime.
Tennessee
October 1st to April 15th
Texas
You can't use studded tires under any season
Utah
October 15th to March 31st
Vermont
Studded tires are permitted in all seasons.
Virginia
October 15th to April 15th
Washington
November 1st to March 31st
West Virginia
November 1st to April 15thTire psi must be 40 or below.
Wisconsin
Other than school buses, emergency vehicles, and mail carriers, no one can use studded tires in any season.
Wyoming
Studded tires are permitted in all weather.
Which Tire You Should Use Instead Of Studded Tire In Summer?
As you can't drive with studded tires in summer, you may search for options that are feasible for all year. So, you can use all-season tires.
They are made with materials that won't wear out in any particular season and will give you good performance under all weather. Here are some benefits of all-season tires.
They provide pretty good traction even on wet roads.
They can sustain under freezing conditions.
They are legally approved in all the states.
These wheels have a longer tread life than other tires.
All-season tires are affordable.
They also provide better fuel efficiency than summer and winter tires.
The rubber material is not as soft as the winter tire, so hot weather doesn't easily wear them out.
So, store your studded tire for next winter and invest in good all-season tires.
FAQs
How Fast Can You Drive With Studded Tires?
You can drive over 100 mph with the studded tires but they have a breaking period. you should drive at less than 31 mph for the first 62 miles without any hard acceleration. After that, you can increase the car's speed. Also, as you are going to use them on snowy roads, you should not drive more than 40 mph. 
Can I Remove Studs From Studded Tires?
Yes, you can remove studs from a studded tire. Put some mount tire lubricates on the tire. And then pull out the studs by twisting them with pliers. However, removing studs from studless tires still won't benefit you during summer as the tire material is not suitable. 
Do Studded Tires Leak Air?
No, a studded tire that is in a good condition should not leak air. The metals are installed by professionals and they do not penetrate the tire casing. However, if your studded tire is damaged, it can leak air. 
Conclusion
I hope, now you have the answer to your question, can you drive studded tires in the summer or not. You should replace the tire when winter is gone. However, you can use the tire for 5 to 6 winters, so keep it stored properly.
That's all for now. Have a great day!