Yes, 33-inch tires will fit on a Jeep Wrangler with a 2.5-inch lift kit. But you'll also need a 1.5" body lift as well. This is because the stock tire size range for the Jeep Wrangler is typically between 30 and 32 inches, and the minimum clearance between the fender and tire is 3 inches (which can be up to 5 inches in some cases). As a result, most Jeep Wrangler models can comfortably fit 33-inch tires with a 1.5" minimum lift kit without any issue.
Do you need more clarification on this topic? You can read the rest of the segments.
Will 33 Inch Tires Fit A 2.5 Inch Lift On Jeep Wrangler?
The installation of a 33-inch tire on a Jeep Wrangler with a 2.5-inch lift kit is a viable option, considering that the original tire size usually ranges from 30 to 32 inches. But a 1.5 inches body lift kit is also necessary for this.
However, a body lift kit raises the body of the vehicle above the frame, increasing ground clearance and allowing for larger tires. A lifting kit for tires involves installing taller suspension components to lift the entire vehicle, providing increased ground clearance and tire size capabilities.
Additionally, the Jeep Wrangler boasts a minimum clearance of 3 inches between the fender and tire, which may increase up to 5 inches in some instances.
Consequently, most Jeep Wrangler models can accommodate a 33-inch tire without necessitating any alterations. For a better comprehension of the maximum tire size achievable for a Jeep Wrangler with a 2.5-inch lift, please refer to the following chart.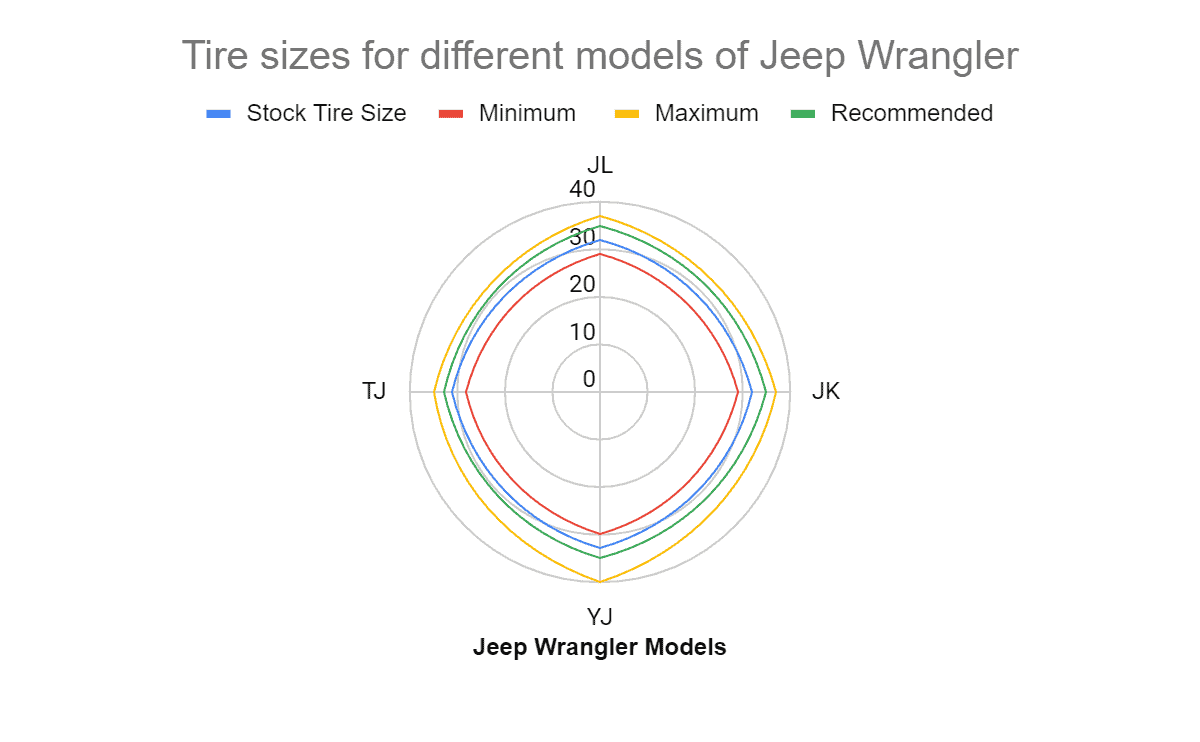 Now let's find out the minimum and maximum size chart for your specific Wrangler models.
Jeep Wrangler Models
Tire size on 2.5 Lift
Stock Tire Size
Minimum
Maximum
JL
32-33"
29"
37"
JK
32"
29"
37"
YJ
33"
30"
40"
TJ
31"
28"
35"
Now, let's examine its feasibility in upcoming segments.
Are 33″ Tires On a 2.5″ lift in a Jeep Wrangler Worth It?
Installing a 33″ tire on a Jeep Wrangler with a 2.5″ lift is worth it. Jeep Wranglers can be fitted with 33″ tires without requiring any modifications, but to get proper off road performance you need the 2.5" lift.
A larger tire size could prove beneficial if the goal is to achieve better off-road performance than the stock size. This will result in increased ground clearance and better off-road performance.
When you're dealing with the sizes and ratios too much, the 19×9.5 tire size list can help you with some extra information.
What Is Feasible Tire Size With 2.5-Inch Lift On Wrangler?
A 35″ tire is typically feasible for a Jeep Wrangler with a 2.5-inch lift, and no further modifications are required. However, Wrangler's TJ will need some modifications like fender trimming and a spacer kit to fit a 35" tire 2.5" lift. The installation of this larger tire will result in increased ground clearance and sidewall height.
The enhanced ground clearance will effectively shield the vehicle from potential collisions with stones and uneven surfaces during off-road driving. Additionally, the increased sidewall height will improve shock absorption capabilities, which is essential for off-roading.
Therefore, it is highly recommended that if you choose to lift your Wrangler by 2.5″, you utilize most of the additional clearance for enhanced off-road performance. Installing a 33″ tire, even after a 2.5″ lift, would be an inefficient use of resources.
However, knowing about just the numbers and sizes will not help, you must know how to properly rotate your tires. Why? What happens if you don't rotate your tires? You'll question your and your family's safety then.
How Much Should I Lift My Jeep Wrangler With 33-Inch Tires?
A 33-inch tire with a lift of 1.5 inches is sufficient to provide clearance and improve off-road performance in Jeep Wrangler. This will allow you to safely drive over obstacles without risking damage to the undercarriage, suspension, or tires. It's possible to fit even a 35" tire 2.5" lift without the issue of rubbing and scrubbing.
Moreover, this level of lift is sufficient to prevent tire rubbing or scrubbing against the fender and wheel. Hence, if you intend to substitute your stock Jeep Wrangler tire with a 33-inch variant, you do not need to raise the lift by more than 1.5 inches.
However, it's worth noting that this recommendation may slightly vary depending on the specific model of your Wrangler. Nevertheless, there should be no significant issues encountered when fitting a 33-inch tire on a Jeep Wrangler with a 1.5-inch lift.
FAQs
What Gear Ratio Do I Need For 33s?
Gear ratios of 4.56 are recommended for daily driving, while 4.88 are better suited for off-road conditions. If your daily commute involves steep hills, then the higher 4.88 ratio would be more beneficial. Ultimately, the choice of gear ratio should be based on the specific needs of the driver and the driving conditions they are likely to encounter.
What Are The Benefits Of Lifting The Jeep Wrangler?
Lifting a Jeep Wrangler can significantly enhance its off-road capabilities, providing greater power and crawl ability to navigate even the toughest terrains. With it, the vehicle's off-road capabilities are amplified, making it a perfect option for those who seek more adventure and off-road capability around Memphis.
Do Bigger Tires Lift A Jeep?
Yes, bigger tire lifts a Jeep also enhance the ground clearance. This is for a bigger tire diameter. Enhancing the tire diameter is directly correlated with the vehicle's height. People usually use a bigger tire for the sake of lifting the vehicle to get better ground clearance. 
Conclusion
Alright, hopefully, you got a comprehensive idea regarding will 33-inch tires fit a 2.5-inch lift on Jeep Wrangler. If your intention is off-roading, then choose the biggest possible tire for better performance with necessary modification as needed. You do not need to lift your Jeep 2.5″ to install just a 33″ tire since it already has adequate space.