All trucks need to have a level surface with a slight lift to ensure proper ride height. Due to mixed reactions to the lifted Jeep Commander (XK), a lot of people get into conflict to decide if it is worth the investment or not.
Let me put it simply, there are a few reasons to lift the Jeep which are pretty solid benefits. These includes:
Adds Aesthetic Quality.
Correct Ride Height.
Reduce Sagging.
Simple To Mount & Cost-efficient.
Boast Clearance & Terrain.
Improve Off-roading Performance.
In this guide, I'll explain deeper than simply these points, why one should lift the Jeep XK so that you can easily decide for yourself. Let's Get Into It!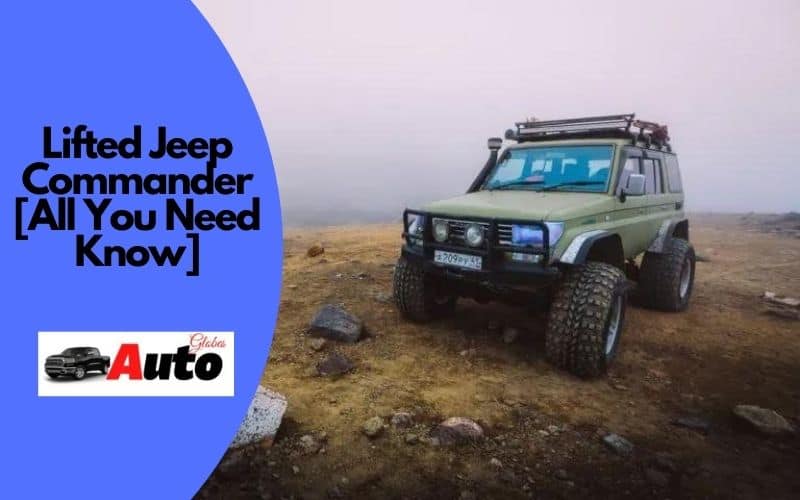 6 Reasons To Use Lifted Jeep Commander!
After seeing the sneak peek, you may feel curious to find out how the slight lift can change Jeep Commander performance. Here are the benefits that accompany:
Add Posture & Beauty To Old Looks.
The basic Jeep Commander 2″ lift can impact a lot to correct its posture. Not only does the slight height can help it look cool but also gives a nice feel.
A sudden increase in Jeep XK height will surprise your friends in a good way. This will help you to get the highlight on the street if Jeep looks matter to you.
Correct The Ride Height Of Jeep Commander.
Based on experience, adding a few inches to the Jeep can improve the ride height. If this thing is new to you, let me explain the ride height stuff so you know.
Ride height simply means the connection of the chassis and wheel hub (at the mid-point) which plays a major role to ensure a cozy driving experience.
As the slight height of the Jeep can fix the ride height, it won't cause any unnecessary drag or issue when running on bumps.
However, you might need to use one of the best lift kit for Jeep Commander like the Rough Country 2″ Lift Kit which doesn't affect ride quality and fits well.
Helps To Stop Jeep XK From Squat.
Facing sag or squat using the Jeep Commander is pretty common if the road condition sucks. Adding a slight height like 1.5" will solve this kind of issue no matter how bad the path is.
This mostly happens due to the loads that the Jeep XK carries and the road conditions which cause the suspension parts (leaf spring) to loosen their height and changes the wheel alignment drastically. And this results in the Jeep sagging or squatting poorly.
Mount Easily Which Also Charges Less.
One fantastic thing about the lift in Jeep Commander is it fits easily on the surface and doesn't cost a lot. Based on what type of lifter you want to use; the cost range can go up and down. Here's what I mean:

Note: Add the lift type cost with labor cost if you plan to install a lifter via a professional to know the installation cost amount. Otherwise, only count the part cost.
Add Ground Clearance & Grip. 
Even feel like in need of better ground clearance to ride evenly and find the proper grip on the road? If so, the lifted Jeep Commander will solve this in a second.
One thing is clear you have to select a proper ride height of around 1.5" to 2" (based on most manufacturer recommendations).
It raises the Jeep from its actual height and causes more balance on the wheel and tire. That helps the Jeep to perform well under rain, mud, snow, or sandy surfaces. It won't affect the driving style.
Improve The Off-Road Performance.
In case you are an off-roader and prefer to improve the Jeep, then the slight raise on the suspension or body can fulfill your need.
It as well helps the Jeep parts to stay in the right position which raises the safety on the road performance.
2 Reasons To Avoid Lifting Jeep Commander!
Yeah! Using a lifter is not always great if you make mistake on the first step of installation. To understand the matter, look into the given reasons why you shouldn't add a lift on Jeep XK:
1. Need A Lot Of Maintenance.
It's true that the Jeep Commander will need a lot of care and upkeep due to the sudden ride height effect. This literally means you might need to inspect weekly and spot any damage. Just be sure to change it once in 2 to 8 years (based on the lasting ability of lifters).
2. Affects Ride Quality If Installing Wrongly.
Another bad point of the lifter is this can make the ride quality worse if you mount it wrongly. In case you have no skill and start to do it yourself this can occur.
To prevent that, I would suggest seeing some videos or checking the instructions to understand the steps first. And then, decide whether to do it yourself or seek help from an expert.
Overall Thoughts
Although the lifted Jeep Commander will give tons of benefits, there are some downsides that you should keep your eyes on to be careful and prevent.
In my opinion, adding a lift is great for Jeep XK if you are a daily off-roader or adventurer who tends to ride here and there.
But for ordinary drivers, the sudden lift might give uncomfortable riding style since it will change the ride quality even if the height added is 1".
Hope this whole piece of guide helps you to learn the good and bad sides. Now, it's your turn to use the lift or skip it!