In automobile trucks, a driver will need a solid battery like NAPA. But have you ever wondered who makes NAPA batteries and produce them all over the world?
As far as it is concerned, the brand is simply made by a group of regular auto part sellers at the time 1925 and named the shop NAPA to provide rich quality batteries and other accessories for trucks. And the factories that made them are East Penn and DEKA in the 2009 year.
Now that you have a slight idea about the history, it's time to learn more about the brand timeline along with some unheard stuff in this guide. Let's Move Forward!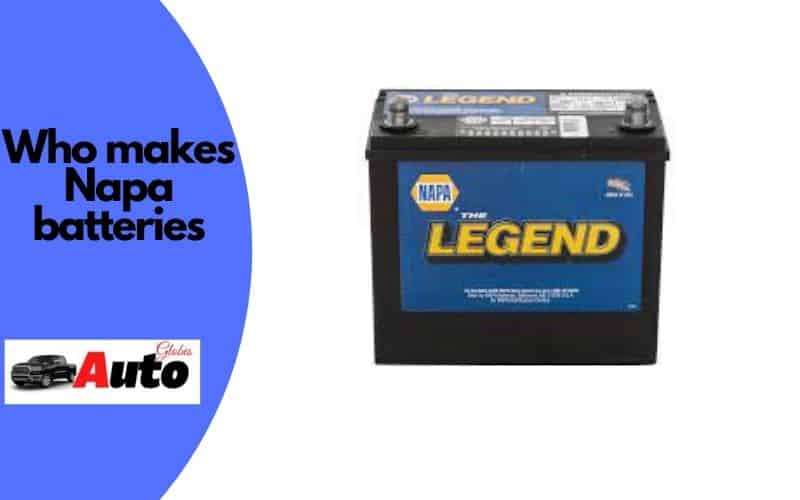 Who Makes Napa Batteries? Important Events, Facts & Figures!
Since the time is 1925, it's still hard to track all the events to understand exactly who made NAPA batteries. Let's get into a short but detailed timeline to know about each event that will help to know the real stuff!
Important Events
On 1925, A small group of sellers made the NAPA (National Automotive Parts Association) in Atlanta, Georgia, US.
Fast forward to 1928, the GPC (Genuine Parts Company) was born in Atlanta, Georgia, the US to provide top-notch auto parts.
After some years, the GPC start to acquire most NAPA member companies. And in 2012, It becomes the last remaining member of NAPA to control the whole thing.
In 2013, the GPC labeled a new company name Repco to sell its auto parts in Australia and New Zeeland.
The brand banner NAPA in early 2017 to come with a store in Logan City, Queensland.
In September 2017, the GPC acquire the AAG (Alliance Automotive Group).
Figures
Key People: In NAPA & GPC, the Paul Donahue is the Chief Executive Officer (in May 2016) & Chairman (in April 2019).
Industry Style: Retail.
Manufacturing Facility: East Penn & DEKA.
Production Ability: Over 500,000 items.
Number Of Employees: More than 52,000 employees.
Distribution Centers: Up to 57 areas.
Market Present: Around 50 countries and more than 1,000 locations.
Headquarters: Atlanta, Georgia, US.
Founded: 97 years ago (around 1925).
Auto Parts Stores: More than 6,100 nationwide.
Profit Range: Up to $18.87 billion annually.
Gross Profit: $6.63 USD billion.
Net Worth: $898.79 million.
Overview Of Manufacturing Facilities
Both EAST Penn and DEKA stand on another level to make the quality batteries that meet the NAPA and GPC standards to call 'top-notch'. Let's learn about their manufacturing traits!
EAST Penn
With a total of 10,500 full-time workers and 515 design plans, this manufacturing facility has the Man, Machine, and Method all at once. The EAST Peen has the 33rd Annual "Spirit of NAPA" award for its wonderful effort.
DEKA
This is a research and development corporation that contains more than 400 engineers, technicians, and other manpower.
Types Of NAPA Batteries
The automotive and truck battery is mostly categorized into 3 sectors based on the power level to ensure better performance. Here's the detail of each:
AGM (Absorbent Glass Mat)
This type of NAPA battery is filled with advanced lead-acid to ensure seal-free, mess-free, and carefree performance. Its main job is to ensure the 2 most essential things, and these includes–
Provide starting AMPs in greater power.
Operate electronics for a longer period of time (last 2x times more than conventional batteries).
Power Start
It's a special kind of NAPA battery that contains LFP (Lithium Iron Phosphate chemistry) to provide better safety and drops power. Most charges automotive use this kind of power start.
The Legend
To provide a top-notch level and strong performance, most drivers use this kind of NAPA battery. The main goal of The Legend is 3 in total which include –
Deliver top-level starting power.
Offer high reserve capacity to find power in an emergency.
Running inside and outside parts smoothly.
Frequently Asked Questions
1. Are NAPA batteries any good?
They are fantastic if you think of safety and power in the first place. Apart from that, they ensure to last longer with an assurance of quality, performance, and strength.
2. Who makes NAPA AGM batteries?
The NAPA AGM batteries are made by GPC company in East Penn and DEKA manufacturing facilities.  However, it was Johnson Controls and Exide who used to make the NAPA AGM batteries in the factory.
3. Are NAPA batteries made in the USA?
Yeah, they are built in the USA (in the largest city of Michigan, Detroit) as the company and its parent brand GPC are both made in the same manufacturing facilities.
Overall Thoughts
Out of all, no one can touch the level of NAPA batteries for modern and passenger cars. Now you have complete knowledge about who makes NAPA batteries with inner info of brand, factories, some figures, and battery types.
Plus, you'll find the most-asked queries so that you can leave this content by learning everything.
Hope this guide helps you to provide the topic-related details with some fun facts. Catch You On Next Guide!