Onstar is one of the Chevy premium feature that work with Mylink Navigation to deliver the drive an awesome navigation experience. But this Onstar is expensive, very expensive, so most Chevy user try to look for alternatives like Google make, Chevy own basic navigation system and even cheap third part apps available on both play store and apple store.
Onstar is a very important system in GM vehicles today. It improves the navigation system of a GM vehicle as well as provides the diagnostic services needed to maintain the overall maintenance of the vehicle.
So the question may come up that the navigation of GM vehicles can not be used without Onstar. If so, what are the alternatives? Or what to do if there is a problem with Onstar service? In this article, we will discuss these issues in detail. Stay tuned.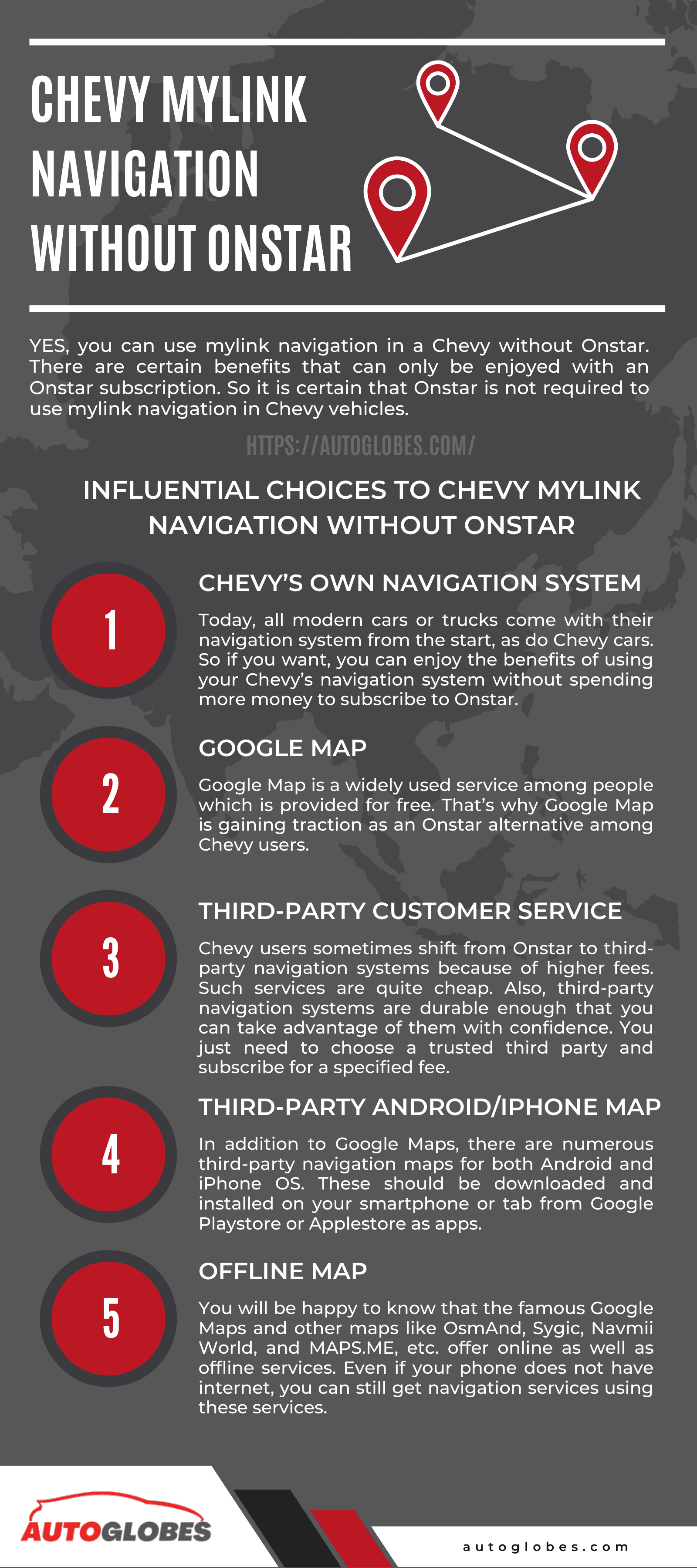 Most Chevy users ask, "Do I need OnStar to use navigation?" This question can be answered in single word, No, you do not need Onstar to use mylink navigation in a Chevy. Onstar in an option deliver by Chevy but you can have other alternatives too. There are certain benefits that can only be enjoyed with an Onstar subscription.
To get the full benefit of your Chevy's mylink navigation, you must be an Onstar subscriber. Meanwhile, a major problem with Onstar is that it is quite expensive. So many Chevy users look for exceptions to this expensive system. Below we go over some of Onstar's tried and true exceptions.
Today, all modern cars or trucks come with their navigation system from the start, as do Chevy cars. So if you want, you can enjoy the benefits of using your Chevy's navigation system without spending more money to subscribe to Onstar.
Google Map
Google Map is a widely used service among people which is provided for free. That's why Google Map is gaining traction as an Onstar alternative among Chevy users.
Through this service, you can use your smartphone or smart tab to easily view road pictures, destination, directions, traffic conditions, etc. as you need.
For this, you need to have a data connection and GPS access on your smartphone. This way you can solve your Chevy's navigation from a smartphone.
Third-Party Customer Service
Chevy users sometimes shift from Onstar to third-party navigation systems because of higher fees. Such services are quite cheap.
Also, third-party navigation systems are durable enough that you can take advantage of them with confidence. You just need to choose a trusted third party and subscribe for a specified fee.
Third-Party Android/iPhone Map
Third-party Android or iPhone maps
In addition to Google Maps, there are numerous third-party navigation maps for both Android and iPhone OS. These should be downloaded and installed on your smartphone or tab from Google Playstore or Applestore as apps.
These services are the third party of course but give quite effective results. Of course, to use them, your device must have a data connection and GPS. Some of the notable third-party navigation apps are Badger Maps, HERE WeGo, Waze, Roadtrippers, Mapquest, etc.
Using these apps, you can easily find out where gas stations are, traffic conditions on the road ahead, or which is the easiest and shortest route. So instead of using expensive Onstar, you can save money by using these third-party Android or iPhone apps.
Offline Map
You will be happy to know that the famous Google Maps and other maps like OsmAnd, Sygic, Navmii World, and MAPS.ME, etc. offer online as well as offline services. Even if your phone does not have internet, you can still get navigation services using these services.
You can download the information about the area you want and save it on your phone or tab. But keep one thing in mind, you won't get real-time benefits when using offline maps. Because real-time navigation is only available online.
If Onstar has other competitors, why is this service recommended? What are the disadvantages of not using it? These questions are very common among Chevy users. So now we will know the answers to these confusions.
Automatic Crash Response (ACR)
A notable feature of Onstar is ACR or Automatic Crash Response. Suppose you are an Onstar subscriber and have ACR activated. Now if your vehicle meets with an accident the matter immediately reaches the Onstar advisor.
Then they want to contact you with Onstar's voice system. If they fail to do so, all information about the accident, such as the vehicle number or address, is sent to emergency responders to help you.
Assist to Recover the Stolen Vehicles
When you subscribe to the Onstar service, the risk of stealing your Chevy will be reduced. Because Onstar uses sophisticated GPS technology that helps to recover the stolen car.
Onstar advisors have some access to your stolen vehicle, for example, to restrict the speed of the vehicle and prevent the car from turning on. So if you are not an Onstar subscriber, you will not get this benefit.
Help in Thorough Maintenance
Not only does Onstar provide you with navigation-related conveniences, but it also takes care of the overall maintenance of your Chevy. If your vehicle's tires are low on air, it warns you.
Alternatively, the service informs you about how often your car needs an oil change, whether the transmission system is in order, whether the engine is working properly, etc.
What to Do to Report a Problem With Onstar Service?
If you suffer from the service as an Onstar subscriber, do not hesitate to call 18884667827. They are ready to serve you 24*7.
Last Thought
Honestly, Onstar service is a great selection for a Chevy vehicle. Whether you enjoy the benefit or not is entirely up to you. If your purpose is only navigation, then you should not go to Onstar and choose other simpler and cheaper options.
On the other hand, if your needs are more, then spend a little more money and subscribe to Onstar. Because the service will give you several benefits that multiply your Chevy experience.