Let's admit the truth, it's too difficult to choose one from the ATX and KO2 tires even after you're relieved from the crowded other options on the market. It's because both tires offer alluring features and high-end quality.
So, General Grabber ATX vs BF Goodrich KO2; which is the better option?
If you want a better off-road and snow-driving performance with less noisy journeys, KO2 tires should be your pick. On the contrary, pick the ATX tires over the KO2 ones if you want better all-around traction on both dry and wet roads.
Still, this compact answer isn't enough to cover the topic, of course. Let's go through the piece to know all the detailed differences and similarities between General Grabber ATX and BF Goodrich KO2 tires.
ATX Vs KO2: Quick Comparison
Here's a quick comparison between the ATX and KO2 tires so you can have a look at them if you're in a rush. The details are discussed in the next sections.
| | | |
| --- | --- | --- |
| Comparison Parameters | Grabber ATX Tires | BFGoodrich KO2 Tires |
| Material and construction | DuraGen Technology is used with ultra-high-strength construction. | It's made with a silica compound that's molded into an aggressive, computer-optimized, high-void all-terrain pattern. |
| Available sizes | Available in 54 different sizes | Available in 87 different sizes |
| Tread structure | Superior tread design because of the StabiliTread Technology. | The interlocking tread design makes the tires wear and tear-resistant. |
| Sidewall construction | Less robust and durable than KO2 tires. | More robust and durable sidewall construction. |
| Weight | 28 – 75 lbs | 34 – 78 lbs |
| Price | Less expensive | More expensive |
The Detailed Comparison Between ATX and KO2 Tires
Now, let's delve into all the factors that differentiate the ATX tires from the KO2 ones.
Structure and Materials
Both ATX and KO2 come with cut-resistant tire material as well as bold stone ejectors which allow them to have high-speed gravel. However, the stone ejectors are a bit larger on KO2.
Both tires are made of silica-based compounds. But the material of KO2 is a bit harder compared to ATX. You'll notice differences in the block design of the tires.
I mean yes, both tires have vigorous cuts in them but there are different kinds of blocks on the tires (slight differences actually).
While both tire's blocks are angular and arranged in an interlocking position to each other, KO2 has thinner and smaller blocks whereas ATX's blocks are a bit bulkier.
So, both ATX and KO2 tires offer great materials and structures are more or less the same. So, if you ask who's the winner in this case, well, it's a tie.
Tread
The rubber outer of a tire that's in contact with the ground is called the tread. Between ATX and KO2, ATX tire is superior in this case because it comes with a special tread design that offers a high level of tire evacuation and performs better.
The ATX comes from StabiliTread Technology which levels up the tire durability by 20%. This is not all though; the tires come with two more technologies related to the tread design.
One is DuraGen Technology and another is the Comfort Balance Technology. The first one makes the tire tough by applying three layers of rubber composites on the surface and the second one reduces vibration so you can enjoy more comfortable rides.
Moreover, the tread life improvements of the ATX are backed by a 60,000-mile treadwear warranty.
Now, let's talk about the tread design of KO2 tires. The tread compound of KO2 tires is also a great option to choose because it's resistant to cuts, chips, and even tears.
The interlocking tread design of KO2 tiers helps you get increased ability because of their improved footprint feature. Since the wear and stress on your tire will be evenly distributed, you'll enjoy a stable and comfortable ride.
The tread design of KO2 tires is mostly popular in off-roading for a long period. But overall, the ATX is the winner when it comes to the tread design.
Size
The KO2 tires come in about 87 several sizes. In terms of load range, KO2 tires are available in C, D, E, Q, R, S, and T variants.
ATX tires, on the other hand, are available in 54 different sizes that make it easy for you to find the right size for your vehicle. The tires range from 14-20 inches and 27-37 inches in diameter. C is very common in load ranges, but D, E, and XL ranges are also on your list of favorites.
For being bigger and thicker in size, the ATX tires offer more extensive blocks and grooves. You can expect a more attractive and powerful style from the ATX because of its size and sturdy construction.
Performance
As we've mentioned earlier, the ATX models come with Stabilitread technology that increases durability by 20%. For the sturdy construction and reliable tread of the ATX tires, they perform better with a smooth ride.
More specifically, SUVs, small trucks, and jeeps pair excellently with the tires and provide the highest performance. These tires are the best option for off-road performances.
On the contrary, a unique composition is used in KO2 tires that offer high performance for both on- and off-road driving.
Comfort & Noise
You already know that all-terrain tires produce an annoyingly loud noise when driving on the highway. The louder the noise, the less comfy ride you'll have.
Manufacturers deal with the noise by incorporating uneven shoulder designs that ensure an acoustic balance and reduce tire noise.
The wider the space or gaps between the blocks of a tire, the more air will be there and will produce more sound. What is great about both tires is that their variable pitch tread clears out the noise level efficiently.
Since Grabber ATX tires come with bigger grooves, they create more open areas for producing more sound compared to KO2 tires. For this, the ATX gets noisy after 10k miles.
On the contrary, smaller grooves of KO2 tires are dense (less space for sound production) and they keep the noise at bay for an extended period of time.
On-Road Traction
KO2 tires perform way better than the ATX tires while it's about on-road traction.
If we talk about the dry traction first, KO2 tires offer more G forces and better lateral traction on roads. The small shoulder blocks of the tires reduce vibration and you can enjoy a comfortable ride each time.
But if we talk about wet traction, not any of the tires here are excellent in performance. It's better to always keep your traction on with both tires.
Still, you'll find KO2 tires more flexible to their sipes. But the ATX tires come with a low silica composition and the rubber sipes of the tires don't offer that much flex.
And, if our discussion point is hydroplaning (a measurement of the acceleration of a tire in standing water), then the ATX put better values here.
It's because the ATX tires come with more tread depth (16/32") compared to KO2 tires (15/32").
Off-Road Traction
Although off-road journeys are aggressive enough, both tires offer great performance in this case. The ATX ones work excellently on surfaces with dirt and gravel whereas the KO2 tires provide the best performance on rocks.
Rock Terrain
Both tires offer a balanced and comfortable journey on rocks. But just because the ATX lacks lateral traction, it makes the tire inferior to KO2 tires from this point of view.
When it comes to gravel surfaces, both tires perform great. Both tires emit stones with similar ejectors that also provide protection to the sidewalls.
Snow Terrain
Both the KO2 and ATX tires are extremely efficient on snowy terrain. The deep grooves of ATX capture the water and snow and help keep the momentum going smoothly on the snowy terrain.
And, the extensive grooves of KO2 tires let the snow fill in which offers a solid grip plus great acceleration when in contact with slippery surfaces.
Sand Terrain
You may already know how hard it is to drive on sandy terrains. KO2 tires are on top in this case because it has stronger sidewalls. Additional grip is a must-have feature when it's off-road terrains. And, KO2 tires provide that.
But the more aggressive tread patterns of the ATX ones make them less suitable for sandy terrains.
Mud Terrain
The one thing that matters most when it's to mud terrains is that the tires need to have self-cleaning abilities. But the fact is, neither the ATX nor the KO2 tires are up to the mark.
Unfortunately, the interconnected central tibs of both tires are not that good at clearing the mud. However, since both options come with staggered shoulder blocks, they can work well at some degrees.
Still, it's best not to take any tires of them in contact with deeper muddy terrains or they can get packed fast unwantedly.
Price
Although KO2 tires are costlier than ATX tires, the price is worth it in terms of wear & tear resistance, performance, noise, and so on.
Pros And Cons of KO2
Pros
Contains a solid rubber sidewall;
Good traction in all types of terrain;
Quiet and comfortable tires on both roads;
Great wear and tear resistance;
Off-road traction capability;
Has a long-running life;
Fit for all seasons and weather.
Cons
Pros And Cons of ATX
Pros
Comfortable in all-terrain;
Optimal off-road performance;
Good trade life;
Rigid traction and hard surface stability;
Long trade ware warranty;
Affordable costs;
Smart grip technology;
Contains Duragen technology.
Cons
Lack of maintenance indicators;
Noise on the highway.
Which One is Better- ATX or KO2?
This is the hardest time to decide which tire is better- ATX or KO2. KO2 and ATX are both tough rivals. These two tires are the best of all the sectors that need to be considered to consider a tire ideal.
If you want a tire that is comfortable off-road, performs well on rocky roads, provides high traction on snow and muddy roads, and has high hydroplaning resistance, then you should choose KO2.
On the other hand, if you want comfortable tires on the road, with good grip on ice, high walking depth, and good traction on the road, then ATX is perfect for you.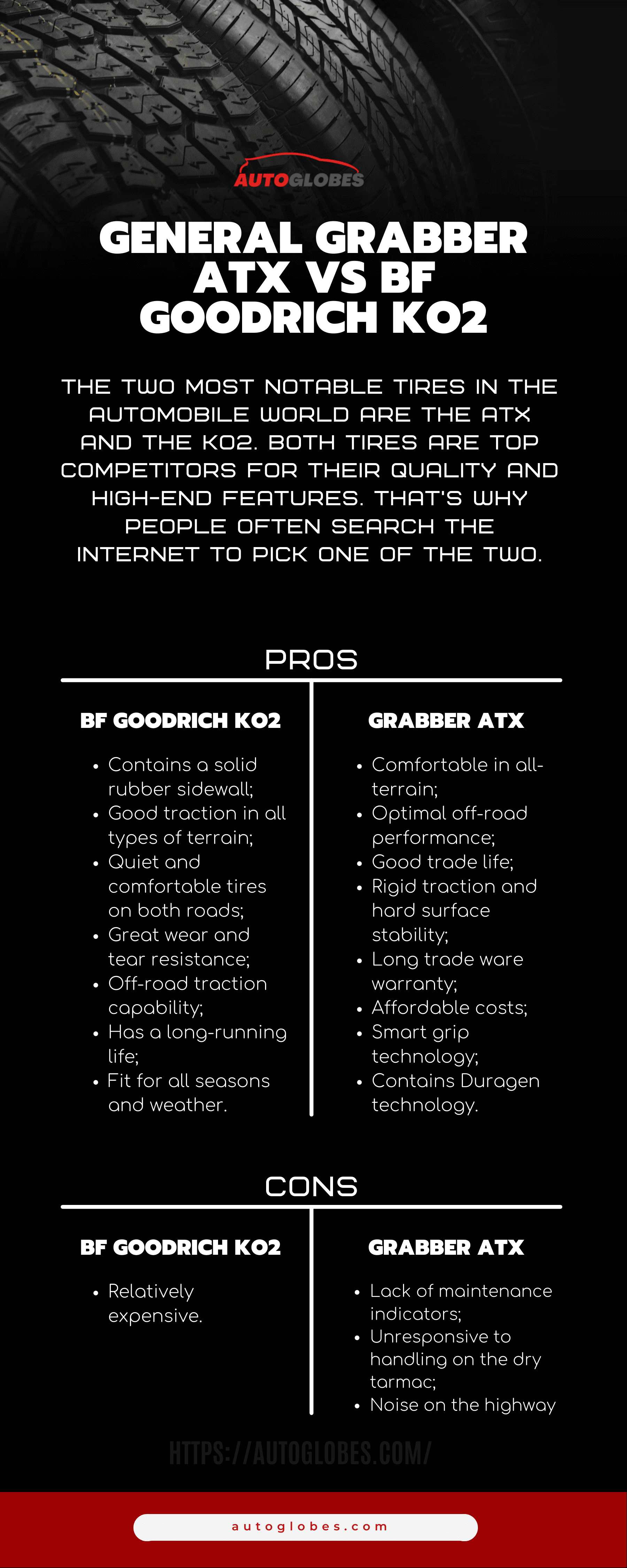 Conclusion
This article discusses in detail the ATX and KO2 tires so that you can easily decide which one is better. Here are a few things to keep in mind when designing a tire as an ideal.
If you want to ensure less noise, better comfort, and better ride from your car then you have to keep in mind the price, on and off-road performance, design, size, etc. If you want tires that give an equal performance in all terrain then both KO2 and ATX tires are perfect.