Looking at the size of the tire of your truck, have you ever wondered who is the largest tire manufacturer? Well, there's actually not just one but many brands who have written their name in making a good reputation.
The most impactful tire brands to exist till 2022 are:
Bridgestone
Goodyear
Michelin
Continental AG
Sumitomo
Today, I'll talk about some of the best tire manufacturers that are known worldwide as some of the largest tire producers. Here I Go!
But Who Is The Largest Tire Manufacturer!
Based on net income, year over tear growth ratio gross profile and net revenue, the largest tire manufacturer is Japan originated Bridgestone.
But there are more. You need to look into each brand's income along with their sales point in detail to get a solid idea, in case you want that. Look at the given table to get the preview and then read the description below:
| | | | | | |
| --- | --- | --- | --- | --- | --- |
| Tire Company | Origin | Net Income | Year-Over-Year Growth Rate | Gross Profit | Net Revenue |
| 1. Bridgestone | Japan | $3.586B | 1737.11% | $11.98B | $29.539B |
| 2. Goodyear | United State | $3.979B | 85.59% | $2.240 | $12.711B |
| 3. Michelin | France | $2.176B | 201.37% | $8.264B | $28.152B |
| 4. Continental AG | German | $1.721B | – 256.67% | $9.158B | $39.948B |
| 5. Sumitomo | Japan | $1.317B | – 30.54% | $6.572B | $41.847B |
1. Bridgestone
This well-known brand is ranked at the top of the largest tire manufacturers. It usually contains around 25 million tires per year and ensures to distribute to different countries including France, Finland, Oslo, and many more.
Not only does it generate brilliant revenue from 2020 to 2021 but also ensured quality which most drivers like.
Even in the covid pandemic, this brand was able to achieve 8.1% revenue in 2022 (more than the previous year's rate).
This company usually sells in 150 different countries.
Available for around 180 tubeless and 67 tube included tire types.
Bridgestone tire types are 5 in total such as Performance, All-Season, Summer, Winter, & Light/Medium Trucks.
2. Goodyear
Next on the list is the legendary US-made, Goodyear. It's great to ensure durable tires that come at a reasonable price.
With 72,000 employees, this big industry makes tons of tires per year which is countless (you can have a slight idea by looking at the revenue).
In the first quarter of 2022, this brand is able to make 4.49% revenue which is a great achievement.
The Goodyear brand sells 57 facilities in around 29 countries.
In the US, it's the largest tire manufacturer and worldwide it ranks in 3rd position.
Its sales for up to $17.5 billion with the tire only.
3. Michelin
Being one of the top tyre brands in the world, Michelin manufactures up to 188 million tires in 2012. But in 2021, it produced 200 million tires which seems huge. From the view of numbers of tire production, it's the largest manufacturer.
But if you look at its growth rate to assume the future analysis, it won't beat the Bridgestone. FYI, it has around 124,760 employees to make and ensure the perfect production of tires.
It makes tires from 117 plants and produces them in 26 countries.
In early 2019, it got the 'tire manufacturer of the year' award.
The brand contains 12.45% of marginal profits.
4. Continental AG
In Germany, this huge brand has a large number of employees up to 244,000 in the year 2022. It is always able to make into the top 5 list largest manufacturer of tires.
In the year 2020, the total sales the Continental AG brand made was around 16.2% which is a great point. And this helps the brand to increase the replacement market contribution by around 11%.
Contains up to a 14.41% profit margin.
It sells tires in 61 countries (including 554 different zones).
The brand offers Summer, Winter, and All-Season tires.
5. Sumitomo
Being a global company, it is considered one of the biggest tire manufacturers in the whole world. This brand usually makes 4.6 million tires per year in different countries including South Korea, Taiwan, and so on. The Sumitomo company contains up to 36,650 employees.
In the year 2020, the sales rate of this brand was around 17% which has raises in 2021 and 2022.
It sells quality tires in 20 countries worldwide.
Its profit margin of it is around 5.21%.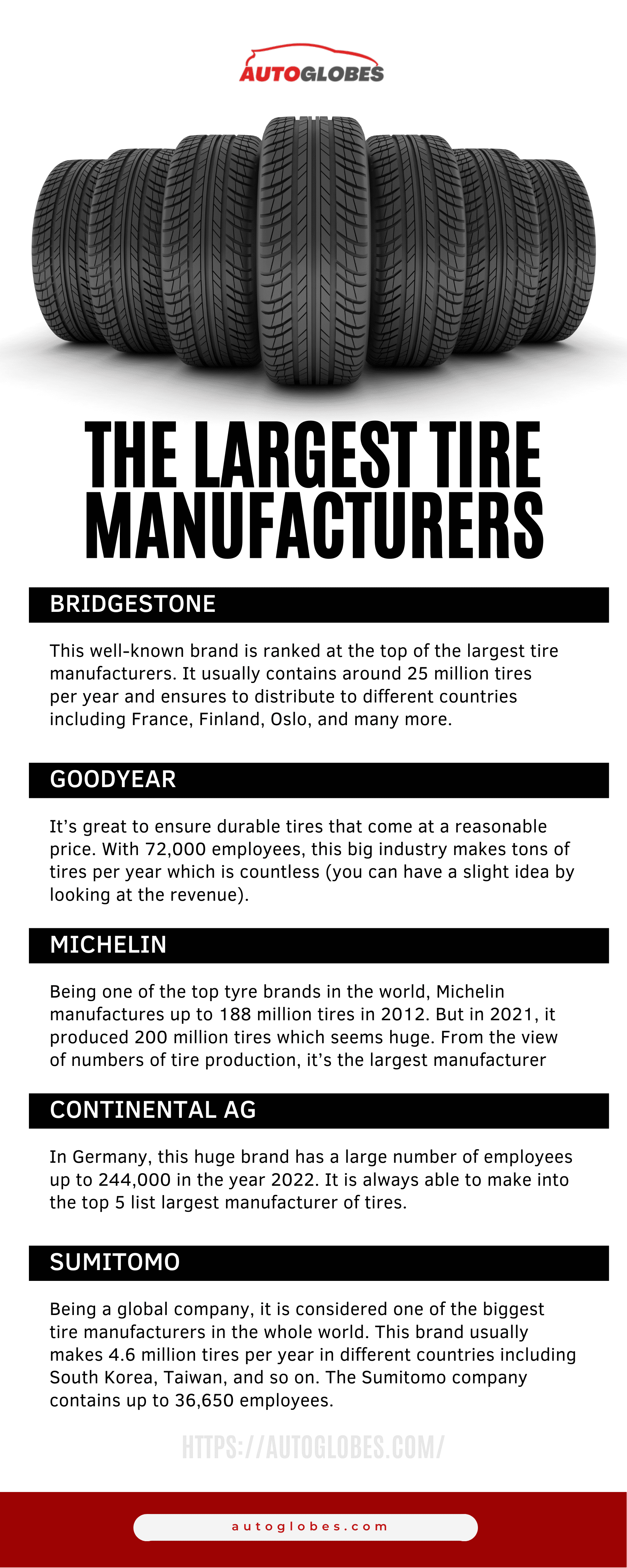 Wrapping Up
You are familiar with the largest brands of tires in the world. And if you are thinking about who is the largest tire manufacturer and the runner up, then it would be Bridgestone and Michelin.
Both rocks in every aspect to produce the quality tires which often ends up making it hard to choose one. In sales point, the winner is Michelin but if you count the revenue the Bridgestone will win, for sure.
Keep your eyes on the next topic too. Bye!