To identify if a car is good, it needs to be easy and user-friendly for its rider which also includes ease of repairs and upkeep.
All brands state their cars are the best for users but in reality, most would fail to serve the ease of usage. So, what are the easiest vehicles to work on in that whole sense? Here's the list of the most popular ones:
Subaru Outbreak.
Ford Crown Victoria.
Toyota Corolla.
Jeep Wrangler.
Nissan Altima.
Chevrolet Cruze.
Toyota Tacoma.
Chevrolet Silverado.
Subaru BRZ.
Lada Niva.
Looking at the list of the names might not be enough for you. Let me show you why they are the easiest cars to work on!
The 10 Easiest Cars to Work On.
According to most users, the mentioned 10 cars are the easiest cars in the world which need low maintenance and repair along with easy usage. Here are the details.
1. Subaru Outback (1994 – Present)
Being one of the easiest vehicles to work on, the Subaru Outback is pretty simple to use. And the repairs of major parts like spark plugs, head gaskets, and other engine components are fairly low-cost.
In total, it will need $610 on average to repair or upkeep once in a year. With the right care (once in 4 years), the car would survive for 250,000 to 300,000 miles.
2. Ford Crown Victoria (1992 – 2012)
As a well-known series of Ford, the Crown Victoria is simple to work on for average folks. It needs low expense to keep the car in good shape and made using high-end parts.
The Crown Vic let you enjoy for around 200,000 to 300,000 miles without giving issue.
Plus, it will cost around $1,081 to repair any error with major parts and maintain rightly. Some might need less between $600 to $700 based on the problematic part.
3. Toyota Corolla (1966 – Present)
It is the easiest Toyota to work on out of all series and models based on all users. The Corolla will give you a nice riding experience which is pretty straightforward to use. Changing parts is also simple which makes it great to ride.
The Corolla will stand for 10 years or between 300,000 to 330,000 miles without failing. And, the repair and maintenance cost are around $360 to $370 annually depending on the damage.
4. Jeep Wrangler (1986 – Present)
The Wrangler is one of the easiest SUV to work on yourself. It let weekenders and DIYers have the fun ride which they want to spend outside by roaming on any terrain including wet, snow, or sandy road.
So, how long does Jeep Wrangler last? It will last for 280,000 to 400,000 miles in total. The yearly cost of Jeep Wrangler repair and upkeep is between $95 to $255 on average.
5. Nissan Altima (1993 – 1997)
Unlike others, the Altima is one of the easiest 90s cars to work on. Its body-on-frame design let you ride anytime anywhere with no discomfort.
Plus, most find its engine reliable and dependable to run longer.
The overall lifespan of the Nissan Altima is between 13 to 20 years (250,000 to 350,000 miles). It will charge yearly $480 – $490 for repair and maintenance in general.
6. Chevrolet Cruze (2008 – Present)
This car has new addition and design that includes all facilities to call it user-friendly. A large number of users like its ease of usage which let you access and ride perfectly.
Its quality is premium so as the protection and reliability.
On yearly basis, the Cruze will cost a total of $550 to $600 for repair and maintenance. It will last for 200,000 to 250,000 miles with care.
7. Toyota Tacoma (1995 – Present)
The performance and durability of this car make it easy to work on. Its average lifespan is around 300,000 to 400,000 miles on average.
The Tacoma contains a solid engine that offers accessibility to handle the speed, ride quality, and so on.
By and large, the annual repair and maintenance cost of it is between $475 to $485, unlike other high costly cars.
8. Chevrolet Silverado (1998 – Present)
One of the easiest cars to work on for beginners is the Chevrolet Silverado. This car includes quality chassis components and an engine that let you ride well.
Plus, it is simple to maintain and take care of.
It usually lasts between 150,000 to 200,000 miles (10 years). In total, this car's maintenance cost is around $700 to $750 if counting per year.
9. Subaru BRZ (2013 – Present)
The 2nd favored car of all people is the Subaru BRZ due to its speed, reliability, and ease of usage. Thanks to the mixture of these qualities, it is one of the easiest modern cars to work on.
With the right care, the car can last for around 300,000 miles. To repair and maintain the parts of BRZ, it will need $210 to $300 per year in general.
10. Lada Niva (1998 – Present)
Containing a fine design and system, the Niva is pretty straightforward to deal with and work on according to most for the mechanical ease.
The road capacity of this car is great to use on any road.
It might cost annually $199 or more for repair and maintenance. And, the car survives for 200,000 miles (at least) depending on the terrain.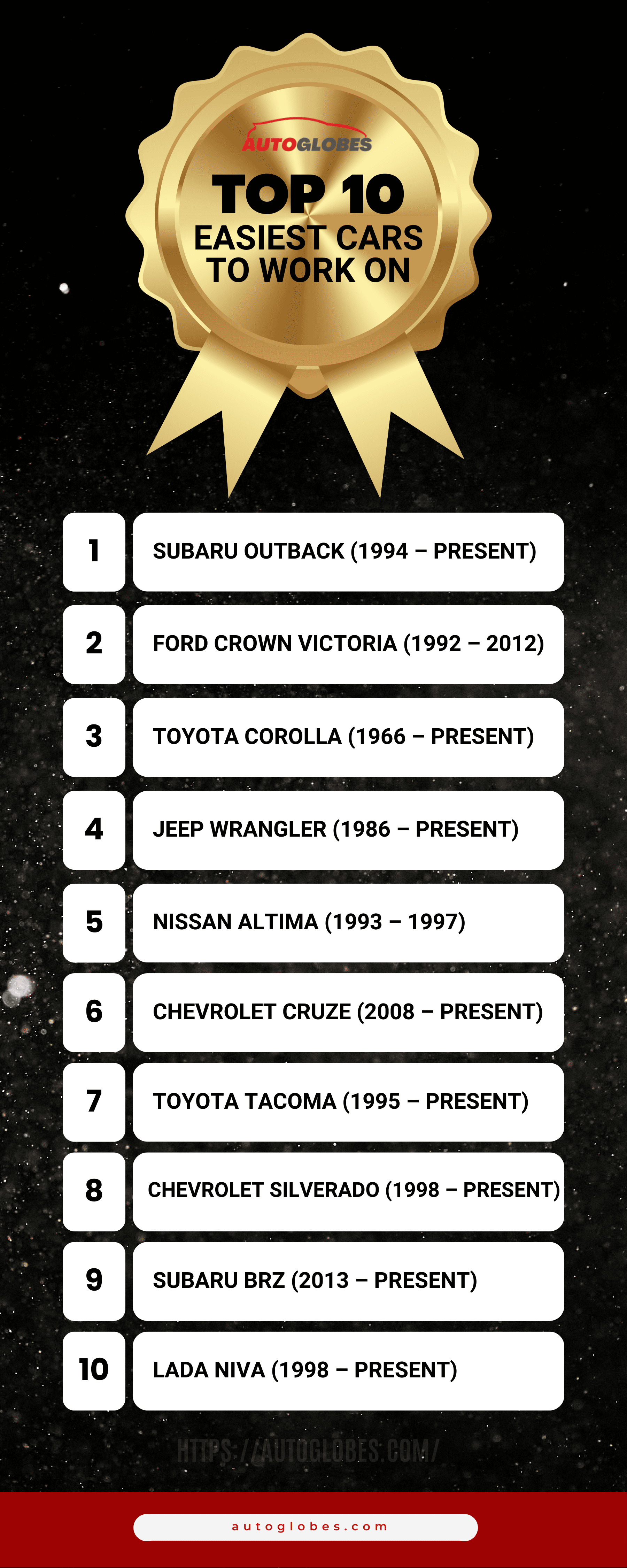 Wrap Up
The repair and maintenance of a car are something that no one can neglect no matter if it's on a daily, monthly, or yearly basis.
The technician who has good knowledge of vehicles can tell what is the easiest cars to work on.
For ordinary folk, this guide will help you to get slight ideas and a list of easy to work on cars. Hope This Helps You!