Uber app helps folks to go to a certain area at a cheap rate than most taxis. The popularity raised to its peak. More people are at the door to have the service but are clueless about the uber car types that they can avail a ride with.
Typically, these are 7 types of uber cars common nowadays, which are: Uber X, Comfort, Select, LUX, XL, Black, Pool, and SUV. Each type is made to serve differently with varying specifications.
In this guide, I'll show all types while mentioning how to use each of them so that you can enjoy each ride without being complexed.
What Are The 7 Uber Car Types?
Uber rides provide a bunch of services based on customer's needs. Let me show you all the types of uber cars down below with the necessary details.
1. Uber LUX
Being a high-end option, the uber LUX count as a luxury vehicle to ensure safe drive of customers while experiencing one of the finest rides. It offers great services especially when you prefer to spend generously as your main focus is having fun rides.
How To Ride with Uber Lux?
Turn on your uber app.
Fill the 'Where from' and 'Where to?' box.
Pick the LUX (at the bottom of the screen).
Click on confirm LUX.
Wait for the uber LUX to come to the place where you are standing. And, the driver will pick you up and drop you at your destination.
2. UberX
The standard ride for the customer would be UberX which offers one of the comfiest rides. It offers a low-price range to travel on a daily basis.
Let you have 4 seating plans (1 on the front and 3 on the back) so you and your friends can travel.

How To Ride with UberX?
Open your uber app.
Fill in the present address and destination info.
Pick the UberX.
Click on confirm UberX.
Then, the ride will come to let you travel to the desired place.
3. Uber XL
As one of the cheapest rated travel services, the uber XL cars let riders comfortably ride. It allows 5 – 6 people to ride through this service.
The service is also being served in SUV, Ford Explorer, or similar-like truck to pick you up and safely let you reach the desired place.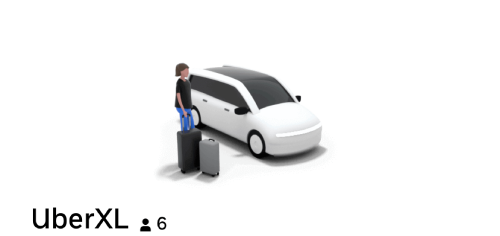 How To Ride with Uber XL?
Through your uber app, enter all the necessary details on boxes.
Pick the Uber XL.
Click on confirm Uber XL.
Remember the vehicle details and driver picture to recognize the car.
4. Uber Comfort
It might be a bit costly to get the desired service as it has 2 options which are: economy & premium. By looking at these 2 words, you might have an idea why both services vary and cost differently. It's great for trips and faster rides.
How To Ride with Uber Comfort?
With the uber app, place important info on the boxes.
Pick the Uber Comfort.
Click on confirm Uber Comfort.
And then, the driver will come and pick you up.
5. Uber Black
Just like the names, the uber black cars has an old and mysterious vibe that suits businessman or rich fellows. It is excellent to ride in a certain place easily without sacrificing the lavish vibe.
How To Ride with Uber Black?
Write your place address, date, and time on the boxes.
Pick the Black only.
Click on confirm Black.
And that's how to do that.
6. Uber Pool
With the modern look of carpooling, this is a great medium. It's not only cost-friendly but also ensures no harm. You'll find 4 seats to sit comfortably in the backside or frontside.
How To Ride with Uber Pool?
Put all the necessary information on the boxes.
Pick the Uber Pool only.
Click on confirm Uber Pool.
Done!
7. Uber SUV
You can have a premium ride with the SUV as it cost a little while serving more. It let you enjoy the ride to the next level. Similar to the XL type, this lets you have 6 seating facilities.
How To Ride with Uber SUV?
Give all the info on the boxes and fill them.
Pick the Uber SUV only.
Click on confirm Uber SUV.
A car will come to pick you up and drop you in your chosen specific area!
Wrapping Up
Due to the excellent speed, comfort, and ride quality of uber, most customers choose it as a medium of transportation. Out of all uber car types, the most popular choice is UberX due to its ride quality.
You'll find various types of uber services in the US, UK, and other countries to let people travel to a certain location quickly. So next time, you find it hard to select one service in your zone, this guide is there to help you make a choice by knowing each type.