Aston Martin is known for creating some of the best exotic cars that combine timeless elegance and luxury without compromising performance. It's something that they have done for years refining automotive excellence while still captivating car enthusiasts with masterpieces that never fail to live up to the Aston Martin name. This article explores some of the best Aston Martin Models and their features.
Aston Martin Vantage F1 Edition
The Aston Martin Vantage F1 Edition (1) is Aston Martin's improved version of their entry-level sports car, the Vantage, which sits below the Aston Martin DB11. It's powered by a 4.0-liter twin-turbocharged AMG engine making 527 horsepower, a 20-horsepower increase from the base model, driving the rear wheels via a 7-speed dual-clutch automatic transmission.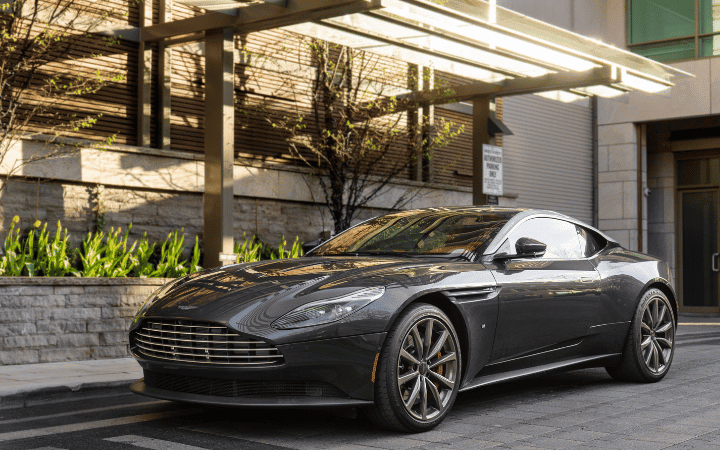 But the 20-horsepower increase isn't all that the Aston Martin Vantage F1 Edition got. Aston Martin installed a stronger strut bracing at the front, stiffer rear springs, different damper settings, and a recalibrated electronic limited-slip differential. Also, standard wheels offered in the Vantage F1 edition were 21-inch wheels compared to the 20-inch wheels in other Vantage models.
The exterior of the Aston Martin Vantage F1 Edition is aesthetically pleasing, mainly since it features a paint job similar to Aston Martin F1 cars. Aston Martin also added new carbon trims, such as fins on the fenders and front canards, and has a bespoke carbon rear wing, front splitter, and underbody aerodynamic upgrades, which are not optional in standard models.
There's not much going around in the interior since it remained unchanged. It's loaded with the latest tech and comfortable enough to classify the Aston Martin Vantage F1 Edition as a proper Grand Tourer. And it gets even better when you opt for comfort options such as ventilated and heated leather seats and carbon trims, among others.
Summary

The Aston Martin Vantage F1 edition has better driving dynamics than other Vantage models, including the Vantage V12. This is due to its suspension upgrades, a power output increase, recalibrated differential, and aerodynamic upgrades such as the front splitter and rear wing that helps smoothen airflow and reduce drag.
Aston Martin Valkyrie
Aston Martin has always awed the world the few times they have made track-only cars. When they finally decided to put the 2021 Aston Martin Valkyrie into production, most said it was the best track car they've made. (2)
It even came as a surprise that the car is road legal in several countries! Power comes from a 6.5-liter V12 churning out around 1000 horsepower. Imagine that roaring beside you on your commute to work early in the morning. And if that was not enough, Aston Martin added an F1-inspired electric motor that adds up to 160 horsepower when extra boost is needed.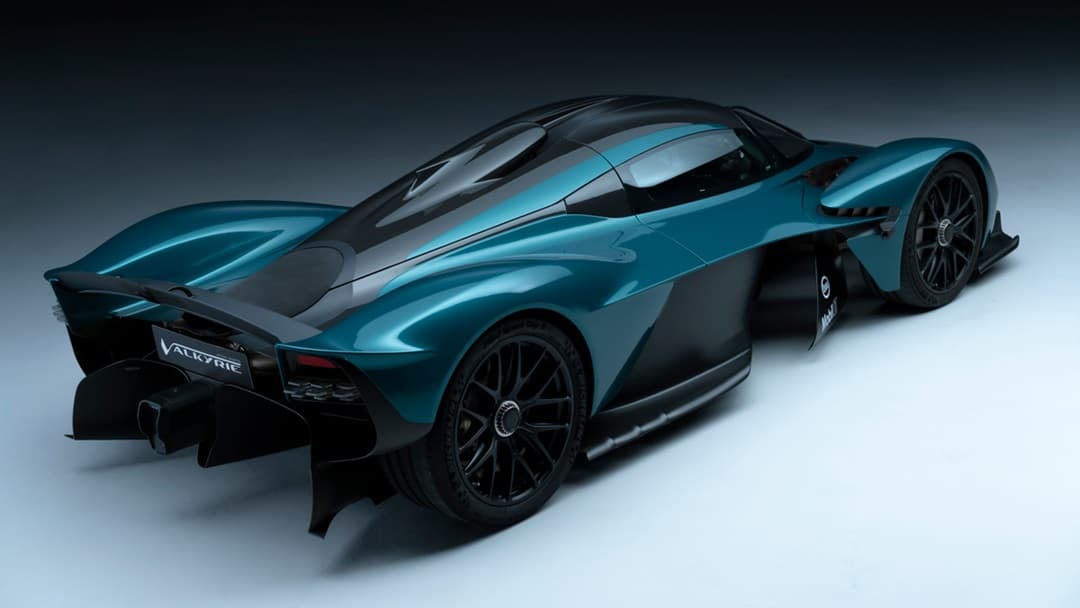 Power is sent to the rear wheels via a 7-speed single-clutch automated manual gearbox built to handle the output figures that the Aston Martin Valkyrie makes. However, according to the owner's manual, owners must rebuild the transmission every 31,000 miles. This is a massive disadvantage for someone constantly on the track or the Autobahn.
The Aston Martin Valkyrie's sharp aerodynamic design speaks enough of it being a track car. The all-carbon body is endowed with massive vents at the front, wheel arches, and an enormous diffuser at the rear that might make anyone think that Aston Martin missed putting a rear bumper on.
In the interior, weight shedding is taken to another level. All you get is carbon bucket seats with little padding and the necessary controls; nose-lift, headlights and windscreen wiper, ignition, neutral and launch control. The screens display the vehicle stats and driving modes; sport, track, or urban, they also display AC controls and Bluetooth connectivity.
Summary

Preceding the Aston Martin Vulcan in Aston Martin's track cars line-up, the Aston Martin Valkyrie is a weapon on the track with its hybrid drivetrain featuring a 6.5-liter naturally aspirated V12 driving the rear wheels via a 7-speed automated manual transmission.
Aston Martin Vulcan AMR Pro
The 2017 Aston Martin Vulcan AMR Pro (3) holds a special spot in Aston Martin's entire line-up. It looked like something straight out of a video game when first unveiled and didn't have ridiculous aerodynamics like the Valkyrie, but it had a seamless carbon body and a massive wing as the cherry on top. However, since Aston Martin had already sold out all 24 Vulcans, they made an AMR Pro package available to current Vulcan Owners.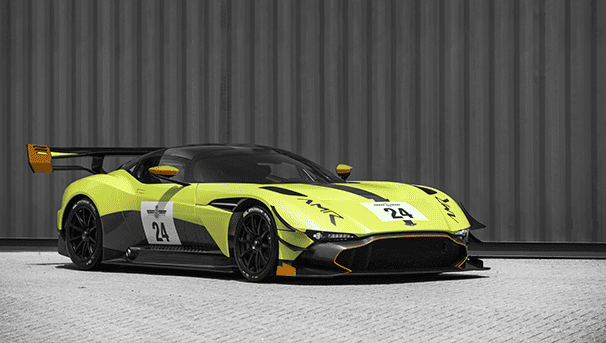 The AMR Pro Package added aerodynamic enhancements featuring louvered panels in front of the wheel arches to reduce lift and exert high pressure, thus improving traction on the front wheels. The rear end was not left untouched. It got a new dual-plane rear wing which is more aerodynamic than the single-plane wing in standard Vulcans. Other changes in the Vulcan AMR Pro included a lighter engine cover and dive planes on each nose to improve airflow. These enhancements led to a more balanced chassis measured at 47%/53% front to rear compared to 41.5/58.5 in the standard Vulcan.
Under the hood is a 7.0-liter naturally aspirated V12 producing 820 horsepower that will propel the Vulcan to 60mph in 2.9-seconds and top speed maxes out at 225 mph, 25 mph shy of the Valkyrie's 250mph. Is that enough for a car with a price tag of over $2.3 million? For the transmission, Aston Martin equipped the Vulcan with a 6-speed sequential transmission lifted from the Vantage GT-3 cars together with the engine but tuned for better response.
The Aston Martin Vulcan AMR Pro's interior is quite comfortable for a track-only car. The seats are well-bolstered, and the interior is more inviting despite being stripped out and filled with naked carbon. You also get AC, but it doesn't work as well as you'd expect AC is a 2.3-million dollar car to work. Maybe Aston Martin engineers added it as an afterthought?
Summary

The AMR package Aston Martin introduced in 2017 for the Aston Martin Vulcan adds aerodynamic upgrades that improve downforce and weight distribution ratio enabling the car to feel more planted on the track.
Aston Martin Vanquish Volante
The Aston Martin Vanquish Volante is a convertible version of the Aston Martin Vanquish unveiled in 2013. It offers a similar driving experience to the regular Vanquish, with the front-mounted  5.9-liter V12 engine driving the rear wheels. But it feels more nimble due to new lighter carbon body panels to counter the added weight of the convertible roof.
In addition to the all-carbon body and convertible fabric roof, the Aston Martin Vanquish Volante got brake and suspension upgrades for better handling and a returned transmission for quick gearshifts. Power output was amped up to 592 horsepower thanks to a free-flowing air intake which also improved throttle response. These upgrades made the Aston Martin Vanquish Volante Quicker than the standard Vanquish and also handled and drove better than the Aston Martin DBS Volante.
Is the Aston Martin Vanquish Volante comfortable to drive? Yes. Aston Martin ensures all its cars have an interior befitting enough for a GT car, and the Vanquish, including the older models, is no exception. The driving position is excellent, and all controls are centrally placed, making the interior driver-focused. Additionally, there's enough headroom, legroom, and trunk space large enough for a road trip as the Aston Martin Vanquish Volante has a larger trunk space than the Vanquish Coupe.
Summary

With a lighter all-carbon-fiber body, the Aston Martin Vanquish Volante has a more refined driving experience than the Volante Coupe. Both cars share the same engine and transmission, but the 5.9-liter V12 in the Vanquish Volante produces more power at almost 600 horsepower. Also, Aston Martin re-tuned the transmission for quicker gear shifts and added suspension and brake upgrades to the Vanquish Volante.
Aston Martin Rapide AMR
In 2007, Aston Martin released the Aston Martin Rapide AMR (4) to bid farewell to their second sedan since the Lagonda V8. It features the beastly 5.9-liter V12 from the standard Rapide and DB9 but with power increased to 580 horsepower. But that was not all. Aston Martin made the Rapide rear-wheel-drive giving it that sports car driving experience despite weighing over 4,500 pounds.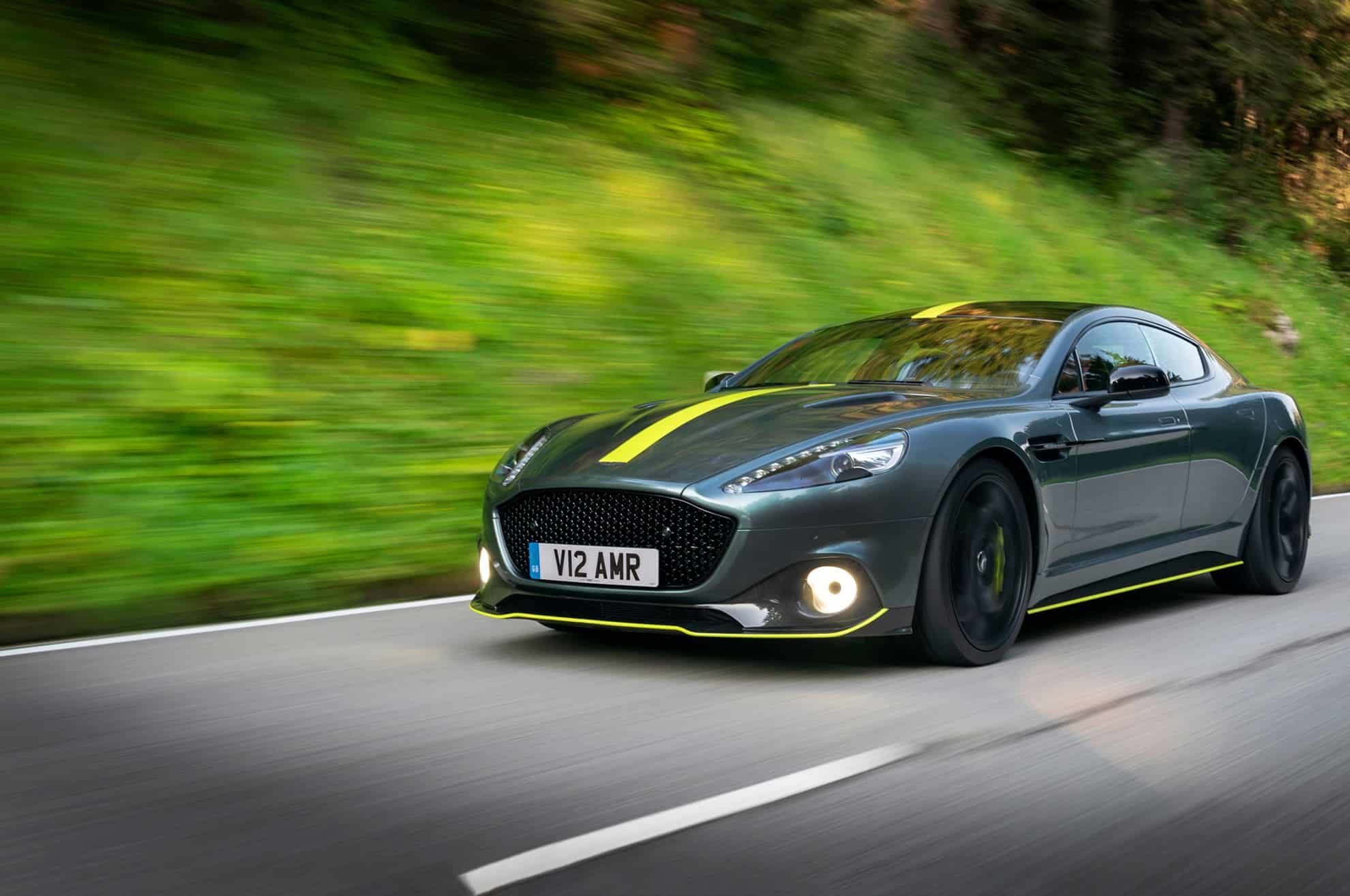 0-60 mph in the Aston Martin Rapide AMR takes less than 4.2 seconds, and the engine will propel the car to a maximum of 205 mph which is not much of a difference compared to the standard model. However, the Rapide AMR got a few suspension tweaks and is lighter due to new carbon body panels, so it handles better, especially around corners. It also got carbon ceramic brakes as standard, an option Aston Martin only offered in Coupes.
Sure, it's fast, but how does the Aston Martin Rapide AMR  feel to drive when you're not aiming at breaking speed records? The cabin is quiet enough to have a baby sleeping while driving. And when concentrating on the road, you can't even hear the V12 rumbling under the hood. Also, the interior has its fair share of comfort features, making driving and being in an Aston Martin Rapide bliss. These include heated front and rear leather seats, automatic climate control, air conditioning, air quality control, and a height-adjustable driver's seat.
Summary

The Aston Martin Rapide AMR is a hardcore version of the Aston Martin Rapide made by Aston Martin as a final edition production model. It features the same 5.9-liter V12 engine as the standard model but drives the rear wheels with increased power output rated at 580 horsepower during production.
Aston Martin Cygnet
Despite the negative criticism that the Aston Martin Cygnet (5) got during production time, we still believe it deserves a spot among Aston Martin's best models. However, Aston Martin didn't really produce it. They took a Toyota/Scion IQ, gave it some luxury and cosmetic treatments, and sold it as their own. Under the hood is Toyota's 95-horsepower 1.3-liter engine, which customers could get mated to either a 5-speed or 6-speed manual transmission or a CVT transmission.
From their website, Aston describes the Aston Martin Cygnet as a luxury solution to urban mobility. But is it as luxurious as they say it is? The exterior has an Aston Martin Rapide-inspired look, but the interior retains everything except the steering wheel. However, Aston Martin couldn't leave out donning the seats, center console, door panels, and dashboard with leather and sprucing up the tachometer with better dials, numbering, and lighting. With prices starting at around $30,000, would you buy an Aston Martin Cygnet or the Toyota IQ that it was built from and save over $20,000?
Summary

Based on the Toyota/Scion IQ, the Aston Martin Cygnet is Aston Martin's luxury solution to urban mobility. However, instead of having a V8 or V12 under the hood, Aston Martin retained Toyota's 1.3-liter 4-cylinder engine, and buyers could opt for a 5-speed or 6-speed manual transmission or a CVT transmission.
Aston Martin DBX 707
It didn't take long for Aston Martin to make another four-door production car after discontinuing the Rapide. But they knocked it off the park with their first high-performance luxury SUV, the Aston Martin DBX 707 (6) 
It's powered by the same AMG twin-turbo V8 used in the Vantage producing 697 horsepower enabling the car to do 0-60 in 3 seconds and achieve a top speed of 193 mph, which is electronically limited. The Aston Martin DBX 707 has a 9-speed dual-clutch automatic transmission sending power to the engine to all four wheels.
To handle the extra power, the Aston Martin DBX got a new wet clutch, standard carbon ceramic brakes, retuned air suspension, and a new slip differential for better handling. So it's fast, practical, and handles like a dream, but it isn't just another super SUV. The Aston Martin DBX 707 is versatile enough to drive on any terrain thanks to the four driving modes: GT, sport, sport plus, terrain, and terrain plus.
Aston Martin ensures the occupants in the DBX 707 are comfortable even when driving on the toughest terrain. In the cabin, you get heated, cooled, and ventilated front and rear seats with an optional massaging function. These interior features and others, such as ambient lighting and dual-zone climate control, are similar to what Aston Martin offers in the standard DBX.
Summary

Powered by the same 4.0-liter AMG engine as the Vantage, the Aston Martin DBX 707 can do 0-60 in 3.1 seconds and achieve a top speed of 193 mph.
Aston Martin DB11 V12
It's highly unlikely that Aston Martin will continue producing cars with V12 engines after they unveiled the Aston Martin DB12 with the 4.0-liter AMG engine. So if you're in the market for one, why not get the latest and greatest, the Aston Martin DB11 V12? It has Aston 5.2-liter twin-turbocharged V12 churning out 600 horsepower. It's also comes with a timing belt instead of timing chain.
With that engine size and power output, you'd expect the DB11 V12 to be all-wheel drive, but it isn't. To balance the weight distribution, Aston Martin mounted the 8-speed dual-clutch automatic transmission at the rear, which also helps improve grip on the rear tires.
Built as a flagship grand touring car, the Aston Martin DB11 V12 is slightly more comfortable to drive than the Vantage despite being heavier and longer. Comfort features offered in the Aston Martin DB11 V12 are the same as in the base-spec DB11 and include heated and cooled leather seats, wood inlays on the dashboard, Aston Martin embroidery on the headrests, and a few others.
The only significant disadvantage of the DB11 V12 is that Aston Martin offers no sunroof option. However, a convertible model, the DB11 Volante, would best suit anyone who enjoys the open air when driving.
Summary

Featuring Aston Martin's 600-horsepower 5.2-liter twin-turbocharged V12, the Aston Martin DB11 V12 is expected to be the last Aston Martin V12-powered road car.
Conclusion
Each Aston Martin Model is a masterpiece in its own right, including the Aston Martin Cygnet, which is just a Toyota IQ donned with Aston Martin goodies that don't justify its price tag. As Aston Martin continues to produce more cars, they leave a legacy in the automotive world, and we can't wait to see what they roll out with every passing year.